Good evening everyone! In the past, I've made no secret of the war I waged versus peas. When Maggie and I started this cooking journey, almost one year ago, the humble little pea was public enemy number one when it came to vegetables and my taste buds. Slowly, I began to work the pea into my recipes, and to my shock, I found that (when used properly) they are not horrendously awful - and (sometimes) can actually be quite delicious.
This lesson, I hope, will apply to my other not-so-favorite food group, mushrooms. I don't despise the mushroom, like I once despised the pea, but I'm no big fan either. My issue with mushrooms lies in the texture and (lack of) flavor. I don't see what they add to a recipe, therefore, I think they're sort of useless. However, I'm nothing if not optimistic - so I'm willing to give mushrooms another go. If they pan out, maybe I'll grudgingly accept them (much like the pea) if not - it's banishment from my recipes forever! Or, at least until I work up enough curiousity to use them again...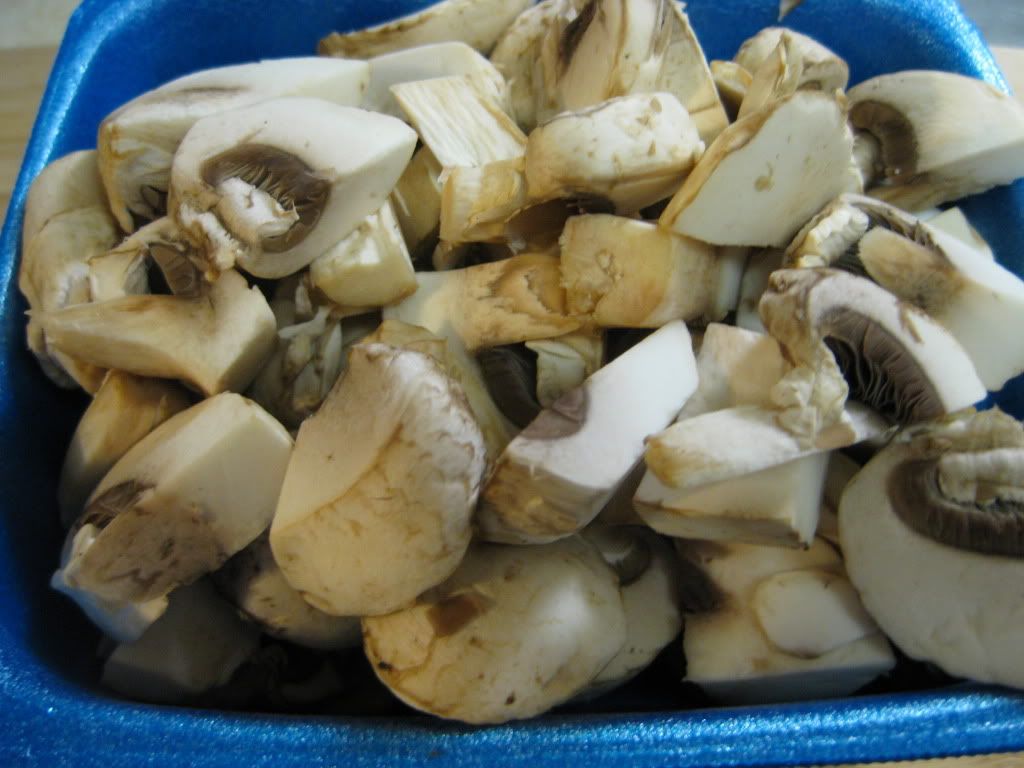 Bring it on...
The Recipe: Steak Tips With Mushroom Onion Gravy
Original Recipe Found In:
Cooking for Two: 2010
(Via the folks at America's Test Kitchen)
What You'll Need:
(Serves 2)
12 Ounces Sirloin Steak Tips (Lean) Cut Into 1 1/2 Inch Cubes
2 Teaspoons Soy Sauce
4 Teaspoons Vegetable Oil
8 Ounces White Mushrooms (Trimmed and sliced thin)
1 Small Onion (Halved and sliced thin)
1/8 Ounce Dried Porcini Mushrooms (Roughly 2 tablespoons)
1 Garlic Clove (Minced)
1/4 Teaspoon Minced Thyme Leaves (Fresh) or 1 Pinch (Dried)
1 Tablespoon Unbleached All Purpose Flour
1 Cup Beef Broth
1 Tablespoon Minced Fresh Parsley (Small pinch dried)
Egg Noodles or White Rice (Quantity based on preference)
To begin, mix the soy sauce with a pinch of black pepper in a medium bowl. Add the steak tips and cover the bowl. Place in the refrigerator for 30 minutes, or up to 1 hour.
This process acts a lot like a brine. Soy sauce is fairly sodium intensive, so the salt gets to work pulverizing the molecules of the meat, breaking down the tough protein enzymes into softer, gentler enzymes. These new enzymes are much more inclined to hold on to the natural moisture of the meat, meaning your end result will be fantastically juicy.
Next, add 2 teaspoons of vegetable oil to a medium skillet. Bring the oil to a shimmer over high heat. Add your steak tips and cook all sides until nicely browned. This should take about 6 to 10 minutes. Monitor your steak closely, this is a leaner cut of steak, so drying it our is easier to do (even after the soy sauce 'bath') you don't want overly dry and tough steak. I frequently check the smallest pieces to see how they're cooking up. Simply slice them with a knife to get a good indicator of how much longer you'll have to cook everything. You will be adding the beef back into the mixture for a final cooking - so they don't have to be 100% done at first. (In fact, it's better if they're not). Once the beef is browned, transfer it to a plate and cover loosely with foil. Set aside.
Add the remaining 2 teaspoons of vegetable oil to the skillet and bring to a shimmer. Add the white mushrooms, onion, porcini mushrooms and a pinch of salt to the skillet. Cover and allow the mixture to cook for 3 minutes, or until the mushrooms have softened considerably.
Next, stir the mixture, making sure to work up any browned bits left in the skillet. Return the cover to the skillet and continue cooking until the mushrooms are lightly browned and a light 'fond' (browning layer) is built up on the bottom of the skillet. This takes about 5 to 7 minutes.
Stir in the garlic and thyme and cook until fragrant - roughly 30 seconds. Next, stir in the flour until combined. Finally, add the beef broth to the skillet and stir, making sure to get up all of the browned bits on the bottom of the pan. (Remember, that's all flavor - you don't want to leave any of that behind!)
Return the beef to the skillet and bring the mixture to a simmer. Once the beef registers 130 degrees on an instant read thermometer, you are good to go. The beef is typically up to temperature in about 5 minutes, but that will vary based on how long it took you to prepare the mushrooms (the longer the beef sits, the cooler it gets - obviously.)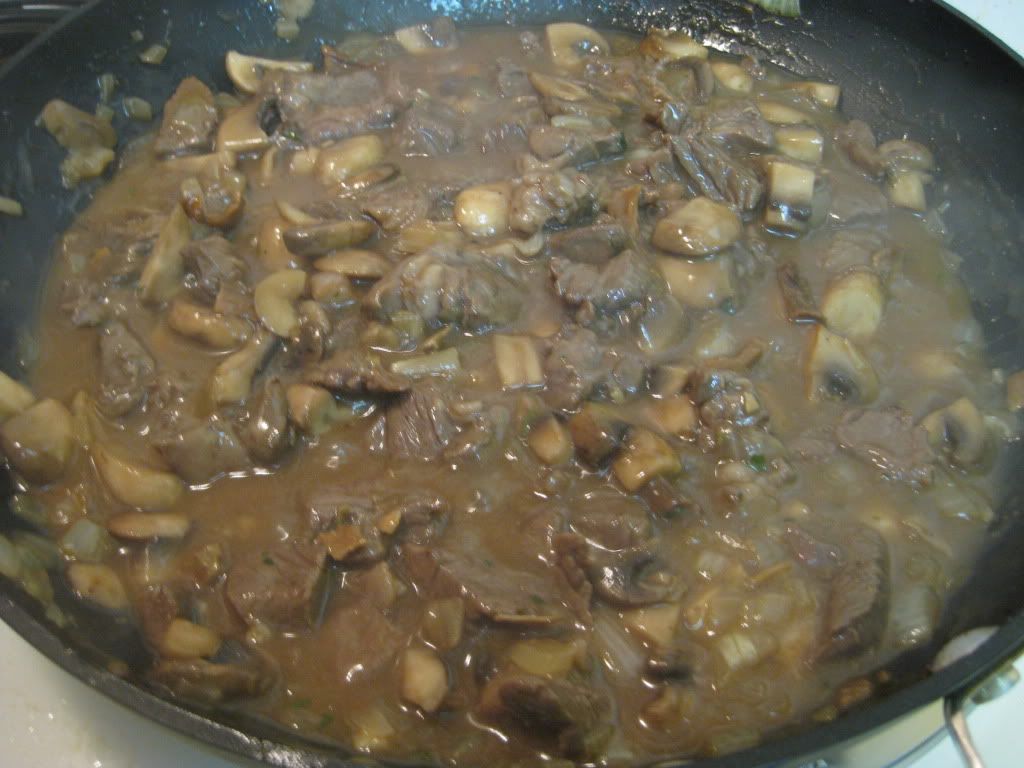 Serve on top of egg noodles or white rice and enjoy!
The Results: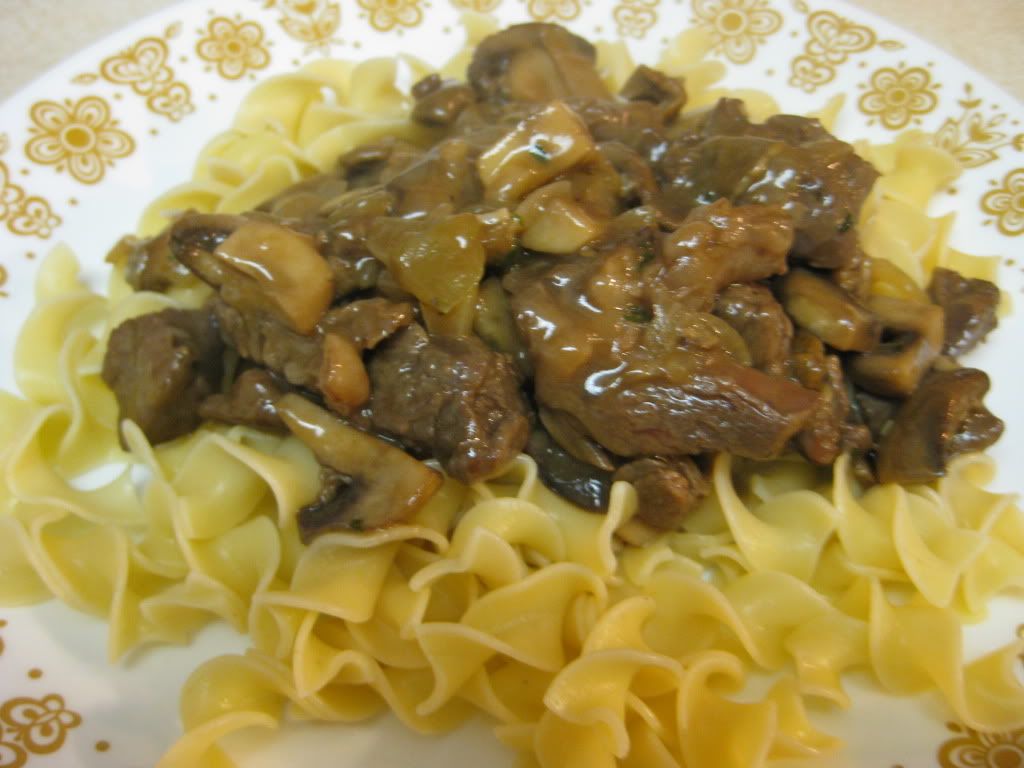 Alright mushrooms, you win this round. Once again, the folks at America's Test Kitchen deliver a recipe that is packed with simple, natural flavor. The great beef flavor really stands out in this dish. The sauce, slightly thicker than I thought it would be, has a great subtle onion hint to it - and the mushrooms actually add a subtle 'earthy' flavor that compliments the beef quite nicely.
All in all, this is a straightforward recipe that could easily be modified with new veggies and combinations (served over mashed potatoes is one option - adding carrots or peas would be a nice addition as well). This is a great dish to make for a person cooking for one - or if you are serving a whole family, simply double the ingredient amounts and enjoy the satisfied 'yums' of the entire family. Certainly worth a shot at home.
That's all we have for you this week! Thanks as always for reading our adventures in the culinary (or out of it as it were...) We're back on Monday with another 'Around The Culinary World' - be sure to stop in then and see all the news that's fit to blog about in the culinary world. Until then,
~Cheers