Good evening everyone! Tonight, I'm returning to one of my favorite dishes - breaded fish. Now, we've covered multiple types of fish on the blog (cod, salmon, halibut, swordfish, tilapia) and quite a few breadings (bread crumbs, cracker crumbs, whole wheat flour, panko bread crumbs, corn meal) as well. However, the nice part about breaded fish is that the dish is there are so many options you can continue to return to the recipe and almost always come up with something new. Tonight, we're going 'new' in every phase of the standard breaded fish recipe. We're trying a new fish - Alaskan Perch. We're trying another variant of breading and (as if these changes were not enough) we're trying a 100% new form of tartar sauce, featuring capers.
Capers, if you're unfamiliar, are the bud of the caper bush. For culinary purposes, caper buds are picked, and pickled in a vinegar/salt solution and used as a garnish or additive for recipes. Capers are typically found in Mediterranean dishes (as the bush grows naturally in that region). While pickled, the caper bud develops a mustard like flavor that release a nice tang to any dish you add it to. This, of course, is according to the cookbooks we own - neither Maggie nor myself have tried capers in our lifetimes. First time for everything!
If you don't want to use Alaskan perch (which we chose simply for the reason of 'we've never used this before') you can substitute any thick, white fish fillet. Halibut is the ideal substitute but cod serves just as solid as a stand-in.
Armed with our new indgredients, let's head to the kitchen!
The Recipe: Breaded Perch Fillets (Originally called oven baked halibut)
Original Recipe Found In:
Cooking For Two
What You'll Need:
1 1/2 Slices High Quality White Sandwich Bread (Torn into pieces)
1/4 Cup Unbleached All-Purpose Flour
1 Large Egg White
2 Teaspoons Dijon Mustard
1/4 Teaspoon Dried Parsley (1 Teaspoon Fresh)
Pinch Cayenne Pepper
Pinch Salt
Pinch Pepper
2 Skinless Fish Fillets (Cod, Halibut or Perch preferred)
For the tartar sauce:
1/3 Cup Light Mayonnaise
1 Tablespoon Minced Sweet pickle relish (plus 1 teaspoon juice)
1 Teaspoon Drained, Rinsed & Minced
1/2 Teaspoon Minced Shallot
1/4 Teaspoon Worcestershire Sauce
1 Teaspoon Fresh Lemon Juice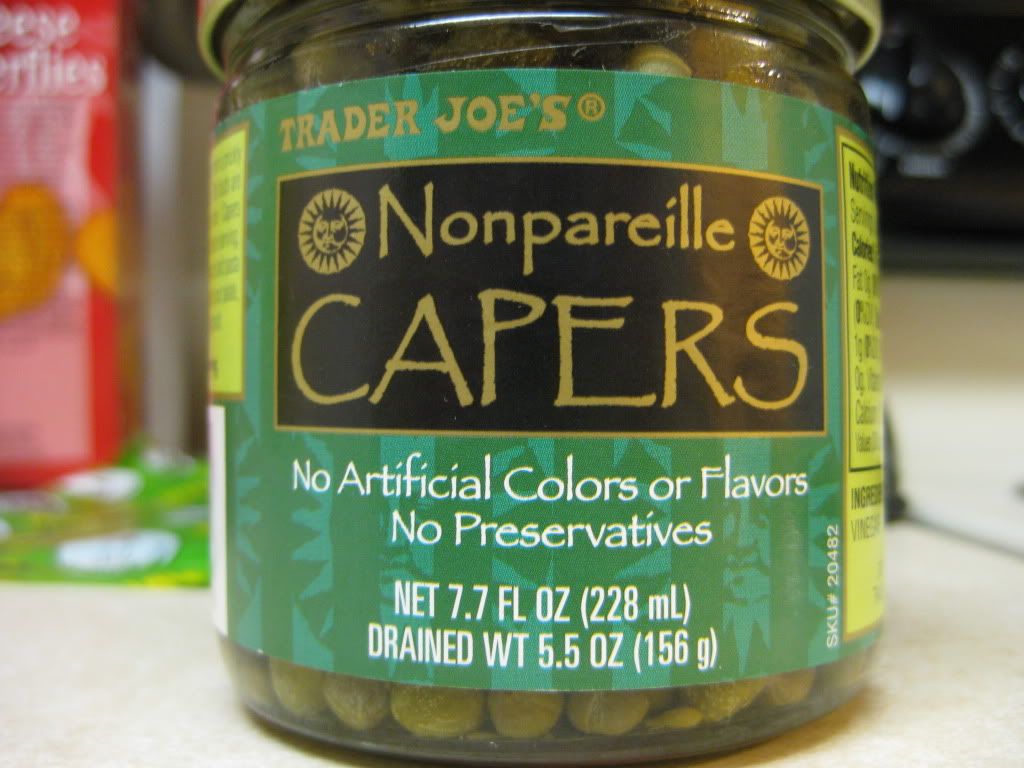 Begin by mixing the mayonnaise, pickles, pickle juice, capers, lemon juice, shallot and worcestershire sauce together in a medium bowl. Stir until well combined and place the bowl in the refrigerator for later.
Adjust your oven rack to the center position and preheat the oven to 400 degrees.
In a medium food processor, pulse the bread pieces until they become coarse crumbs. Next, add the bread crumbs to a rimmed baking sheet and bake for 8 to 10 minutes, or until golden brown. Stir the crumbs occasionally to prevent burning. Transfer the finished crumbs to a shallow baking dish and set aside.
Next, combine 2 tablespoons of the already mixed tartar sauce with 2 tablespoons of flour, the egg white, mustard, parsley and cayenne. Mix until blended and set aside. This mixture will be very thick, almost paste like.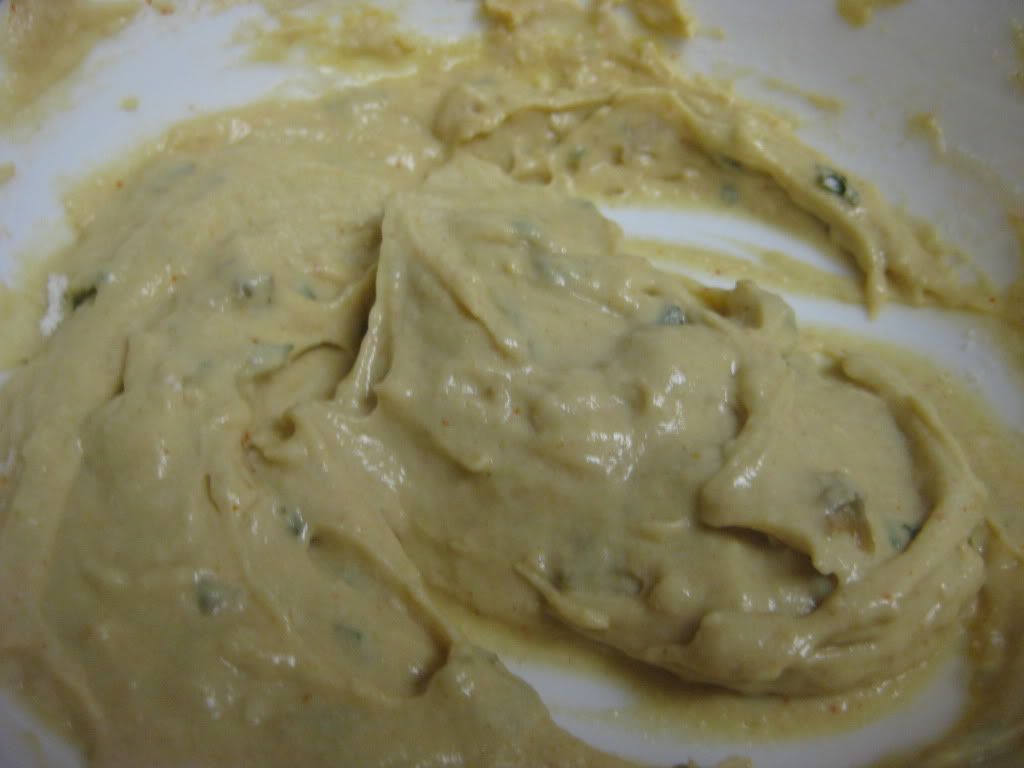 In a separate dish, combine the remaining 2 tablespoons of flour with a pinch of salt and pepper.
Line up the dishes in an assembly line style. Starting with the seasoned flour, then the egg white mixture and finally the bread crumbs.
Increase the oven temperature to 450 degrees and place a wire rack on the rimmed baking sheet you used earlier.
If you are using a frozen fish fillet, be sure that there is no moisture on the fillet before you start the breading process. Water will ruin the breading's ability to cling to the fish and you will not be happy with the end result.
Begin breading the fillets by first dipping them into seasoned flour, then carefully dipping them into the egg mixture. Rub the excess egg to off. Finally, press the fillets into the bread crumb mixture until equally covered. Repeat for as many fillets as necessary.
Place the finished fillets on the wire baking rack and give each fillet a light spray with vegetable oil (this helps brown the crumbs - and reduce sticking, I opted to skip this step myself). Bake the fillets at 450 degrees until they reach 135 degrees on an instant read thermometer. This should take about 6 to 10 minutes. Serve the fillets with the remaining tartar sauce and enjoy!
The Results: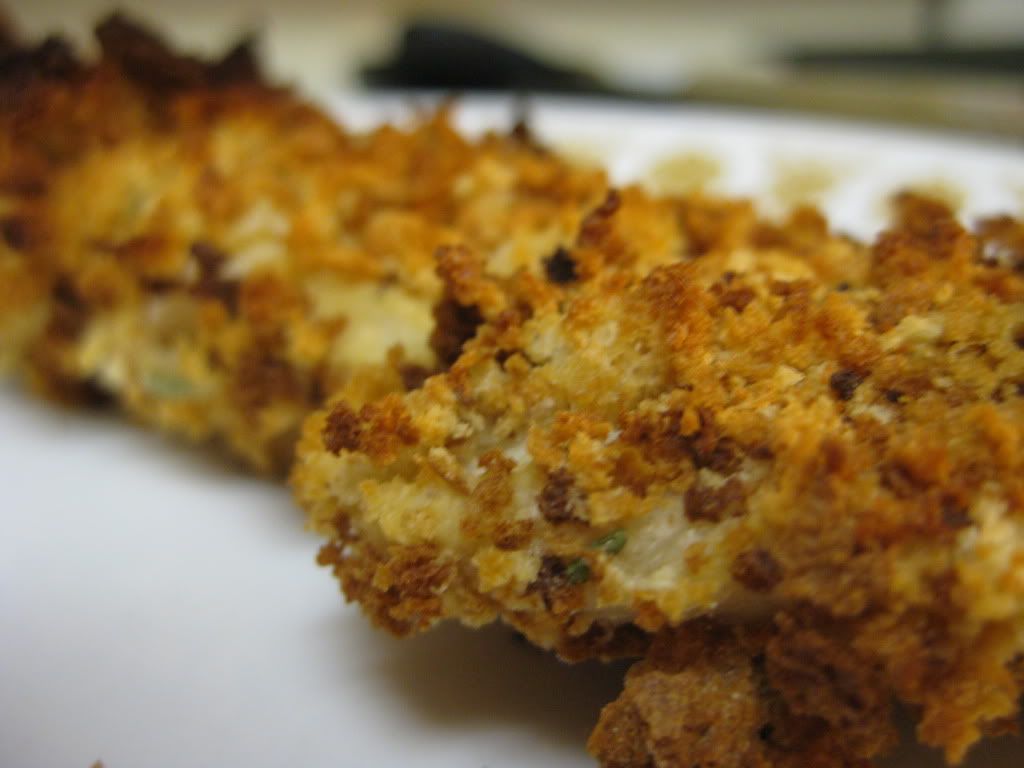 The fish was a pleasant surprise. Perch isn't too different from cod or halibut, so the flavor didn't vary as wildly as I thought it might. Perch does pack a little more 'fishy' taste when compared to cod, which to some is a plus, others find that as a negative. I prefer the cleaner tasting cod myself. The breading had a fantastic crunch with a slight onion/pepper flavor (not too much, just enough to barely notice). While it wasn't as good as our favorite fish dish of all time, the oven baked cod, it certainly makes its own path and is a enjoyable dish in its own right.
The tartar sauce hasn't won me over. I've tried about 4 varieties from the folks at America's Test Kitchen and it just seems like they want to do too much with the simple side. Light mayo with pickle relish. That. Is. All. You. Need. Basic and straightforward. You cannot beat simple. This tartar sauce wasn't bad, just a little too much for the simplicity of the dish it was accompanying. Worth a try for those feeling adventurous.
That's all we have for you this evening. Maggie will be taking to the kitchen Thursday night with a dish that I'm not 100% sure about. She thinks that it could turn out amazing, I'm a little more skeptical - but then again, that's what makes us work so well together - we balance out! Tune in Thursday to see who has it right. Until then,
~Cheers