Good evening everyone! As Tyler alluded to yesterday, tonight's recipe includes two of my favorite food groups (well, not food groups, per se, but types of food that comes in these groups): pasta and cheese. Now, either of these alone are not really healthy, let alone put together. But, if you watch your portion size of this recipe (and really, with any recipe this is true), it actually has a reasonable amount of calories that would satisfy anyone.
(TYLER'S NOTE: Flavorful and still good for you? Cooking blasphemy you might say! Don't be so quick to judge though - this week's theme of tasty, healthier meals continues with Maggie's dish tonight...)
The Recipe: Spaghetti with Four Cheeses
Original Recipe Found In: Taste of Home, Recipe Card Collection
What You'll Need:
8 Ounces Uncooked Spaghetti
1/4 Cup Butter, Cubed
1 Tablespoon All-Purpose Flour
1/4 Teaspoon Salt
1/4 Teaspoon Pepper
1 1/2 Cups Half-and-Half Cream
1 Cup (4 Ounces) Shredded Mozzarella Cheese
4 Ounces Fontina Cheese, Shredded
1/2 Cup Shredded Provolone Cheese
1/4 Cup Shredded Parmesan Cheese
2 Tablespoons Minced Fresh Parsley
Begin by cooking spaghetti to package directions. Another way to "healthify" this recipe, is to chose a better alternative to the regular boxed spaghetti. We chose a multi-grain pasta, which is low fat, sodium free, and cholesterol free. Granted, the flavor might be a smidge different, but once the cheese covers these noodles, you won't be able to tell the difference.
Nothing more boring than waiting for water to boil
While the pasta cooks, melt the butter in a large saucepan. Stir in the flour, salt, and pepper until smooth. Gradually stir in the cream. Bring it to a boil and cook and stir for two minutes or until thickened. Remove from the heat and stir in the cheeses until melted.
Drain the spaghetti, toss with cheese sauce, garnish with parsley, and enjoy!
The End Result: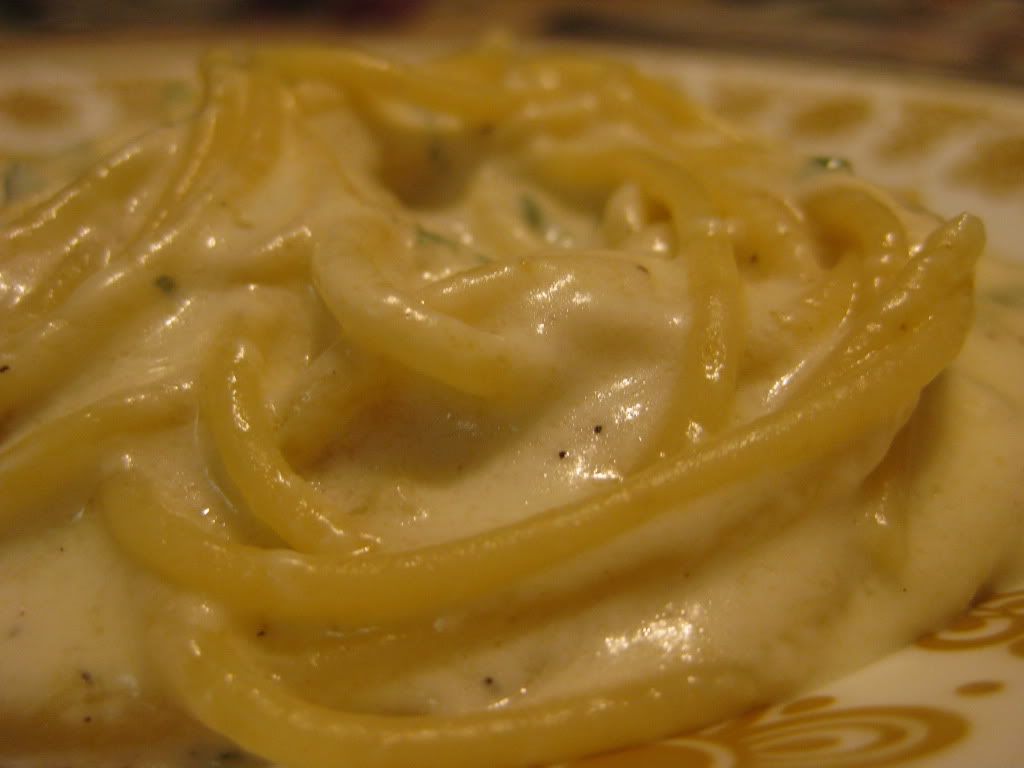 A quick and simple recipe that requires little to no effort. The melding of all those cheeses make it incredibly flavorful and satisfying. Although, we both felt that there was too much cheese in this dish. You could safely cut the cheese in half and reduce the cream as well and not lose any of the flavor. It was simply overbearing in some places - too much of a good thing. (Hey, look at it this way - less cheese means lower calories right?) Also, the cheese didn't quite stick to the noodles like it should have - which made prep a little more difficult than necessary. The spaghetti did absorb some of the cheese flavor, but not the cheese itself. However, at 462 calories, for 3/4 cup, this makes it appeasing to the waist line. Overall, a good dish and something definitely out of the ordinary.
Thanks Maggie! A couple of announcements before we close up for the week. First of all, every recipe this week clocked in at under 500 calories. When your highest caloric meal of the week consists of whole grain pasta and fresh shredded cheese, you're not doing too bad.
Additionally, every recipe this week had under 20 minutes of preparation time. Some of them, like the salmon rosti from yesterday, were even faster (15 minutes) and all of them were a great deal of fun to cook. Eating healthy doesn't have to be a challenge or a chore. It can be quick and enjoyable - as Maggie and focus the blog on healthy eating and cooking - we hope to show just how easy a healthy cooking lifestyle can be.
On a related note, we're big fans of Jamie Oliver and his Food Revolution campaign. We've made that clear MANY times on the blog. Now, we have a new way to support the food revolution in your community.
Jamie's website
has a list of
Food Revolution groups
- simply search the page to see if a Food Revolution group has been started in your area. If not - sign up to create one. It's a great way to get a large group of people together to support a great cause.
If you're in the greater Des Moines area, we've got you covered. Yesterday, I set up the Des Moines Food Revolution community page (via Jamie's website) all you have to do is click
THIS LINK
(Or follow the link on the right hand side of the blog) and click 'Like'. The page will hopefully develop into a local community of people who are passionate for the cause. At the very least it can be a good foundation for discussion and sharing of ideas. Check it out and get involved!
That's all we have for you this week. As always, thank you to all of our fantastic readers who come to the blog and support our little hobby everyday of the week. We really appreciate all the kind words of support and encouragement we receive. It's nice to know that all of your hard works and efforts are appreciated - and we feel very appreciated by our fans. Thank you all.
We're back on Monday with another 'Around The Culinary World' until then,
~Cheers