Good evening everyone! Today was another beautiful day in central Iowa. The weather isn't quite 'warm' but it is substantially
warmer
than it has been for the past few months - so it's nice to get out and enjoy it. Over the past two days, Maggie and I have gone for long (1 mile plus) walks in the evening to take in the beautiful weather and springtime changes. Our trees have buds on them, meaning leaves are only a few weeks away. It's the season of new beginnings - and we're loving it!
Speaking of new beginnings, we're trying something 100% new on tonight's blog. Swordfish. I mentioned last week that our local Hy-Vee had just started stocking more exotic cuts of fish. Flounder, swordfish and many others. Swordfish is one of the few 'large scale' (mass produced/fished) products that I have yet to try. With our (re)focus on healthier eating, fish is playing a big part on the menu. New fish = new ways to explore a healthy menu. A few searches for recipes online and I had the foundation for tonight's dinner. I didn't want to bread the swordfish (yet) because I want to gain an idea for what the fish tastes like. At the same time, I didn't want to eat the fish without any flavoring help - as (outside of halibut) most fish could use a little flavor help.
For those wondering, "isn't swordfish endangered due to overfishing?" the short answer is - not anymore. Certain regions of swordfish populations, such as the North American swordfish, were over fished to the point of near extinction in the late 1980's and early 1990's. However, a focus on rebuilding the population has brought their numbers back. Most commercially sold swordfish actually comes from the pacific islands regions. The population there has always been strong - making swordfish a sustainable food item when it is caught in these regions.
When you're shopping for a swordfish fillet, look for a rosy red or pinkish fillet. Avoid brown or overly 'dull' colored fillets, as those are older. Some fillets will differ in shade, based on their region, but that is not a true indicator of quality. The fillets should be approximately 1 inch to 3/4 of an inch thick, and feel very firm and 'steak like'.
Now that you know how to buy a swordfish fillet - here's how to cook up your own delicious dish!
The Recipe: Swordfish With Citrus Pesto
Original Recipe Found In: Foodnetwork.com
What You'll Need:
2 Swordfish Fillets (3/4 to 1 inch thick)
Zest From 1/2 Lemon
Juice From 1/2 Lemon
Zest From 1/2 Orange
Juice From 1/2 Orange
1/4 Cup Pine Nuts
1 Clove Garlic
1/2 Cup Parmesan Cheese
1/4 Teaspoon Salt
1 1/2 Cups Fresh Basil
1/4 Cup Extra Virgin Olive Oil
(Serves 2)
snapshot of a healthy dinner
In a small food processor, combine your pine nuts, garlic, orange zest, orange juice, lemon zest, lemon juice, basil, salt and a pinch of black pepper until everything is well blended. With the processor still running (carefully) add your olive oil to the mixture and blend until you achieve a smooth and creamy mixture.
This recipe is full of firsts for us, we've never tried pine nuts up until this point either. Pine nuts, for those who are not familiar are made from a particular part of a pine cone (not the ones found in North America, however, so don't get any ideas about eating the pine cones in your backyard!) They're small, really no larger than a sunflower seed, but they supposedly pack a lot of flavor and add a great texture to any dish. What they also are, and what none of the professional cooking blogs mention, is very expensive. A small 1 3/4 ounce bottle of pine nuts (roughly 1/4 cup) is $5.50. Obviously, with the import costs and production costs, this raises the price - but if you're not expecting to drop $5 on a small bottle of nuts, you may be a little surprised (we certainly were) - but you have to be adventurous every now and again, right?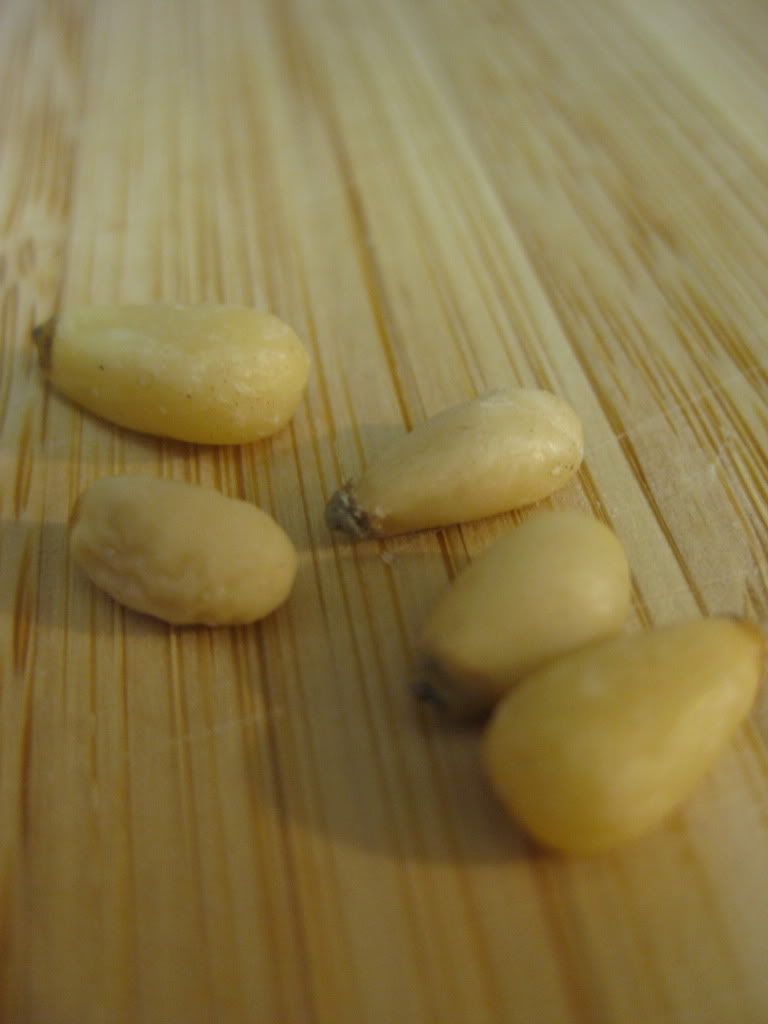 pine nuts
Transfer the mixture (I.E. pesto) to a medium bowl and stir in the cheese. Set aside.
Place a grill pan on medium high heat (or use a gas / charcoal grill if you're able - we would if we could, but our apartment complex frowns on indoor gas grilling!) and lightly rub each side of the swordfish fillets with a little olive oil. Season with a pinch of salt and pepper as well. Once the grill pan is nice and hot (the hotter the better - patience while heating the pan will pay off with a great visual result in the end) place the fillets on the pan and cook, undisturbed for 3 to 5 minutes. Carefully flip the fillets and cook for an additional 3 to 5 minutes or until the fillet turns a nice shade of white and flakes easily with a fork. If your fillets still had a little skin on them, remove the skin (usually found on the sides of a swordfish fillet) and move to a serving tray or plate.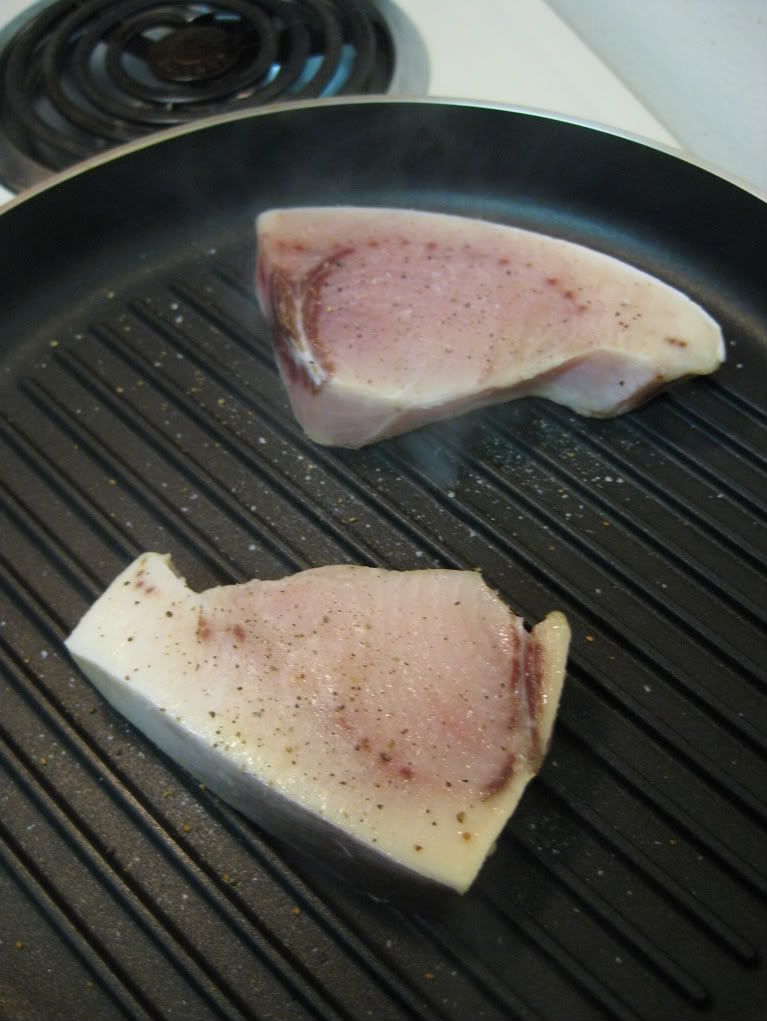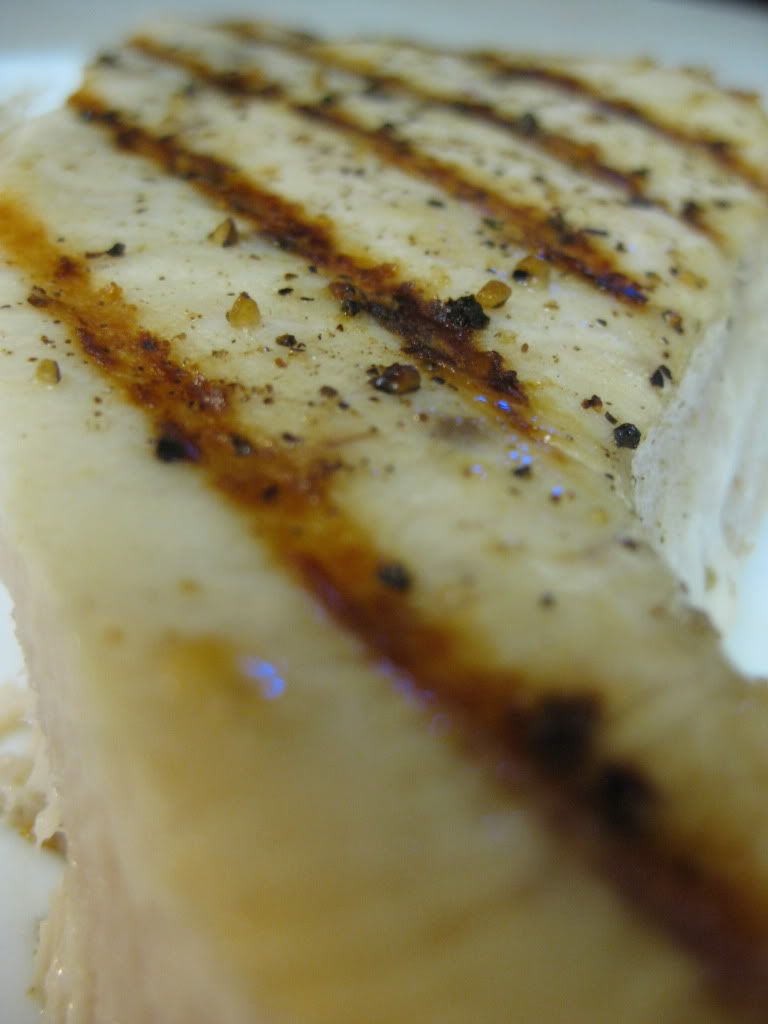 Serve with a topping of the citrus pesto and enjoy!
The Results:
Swordfish is a nice addition to our repertoire of fish options. Oddly enough, it gives off a smell similar to salmon (ode de
That's all we have for you this evening. As we mentioned Monday, we're taking Wednesday night off due to our work schedules and the time crunch we would be facing if we tried to cook, blog, and do everything else we have planned that night. That means we're back on Thursday, with a new recipe from Maggie. Until then,
~Cheers