Good evening everyone! As our week slowly winds down, I wanted some sort of comfort food to end the week. Most comfort food contains high amounts of fat and/or grease, or very rich ingredients, neither which my new digestive system can handle two weeks after my surgery. With this recipe, I found that the ingredients weren't too rich and that there was very little grease. But would the dish still be acceptable for the sensitive tummy's?
The Recipe: Make Ahead Mashed Potatoes (or Pow!-tatoes)
Original Recipe Found In: Taste of Home, February/March 2011
What You'll Need:
3 Pounds (9 Medium) Potatoes, Peeled and Cubes
1 Package (8 Ounces) Cream Cheese, Softened
1/2 Cup Sour Cream
1/2 Cup Butter, Cubed
1/4 Cup 2% Milk
1 1/2 Teaspoon Onion Powder
1 Teaspoon Salt
1 Teaspoon Garlic Powder
1/2 Teaspoon Pepper
6 Bacon Strips, Chopped
1 Cup Shredded Cheddar Cheese
3 Green Onions, Chopped
Place potatoes in a Dutch oven and cover with water; bring to a boil. Reduce heat; cover and cook for 10-15 minutes or until tender. Drain; mash potatoes with cream cheese, sour cream, and butter. Stir in milk and seasonings.
In a small skillet, cook bacon over medium heat until crisp. We used turkey bacon for this recipe, because it would be a little bit easier to digest than regular bacon - plus, you can't tell the difference between bacon and turkey bacon. Remove bacon to paper towels with a slotted spoon.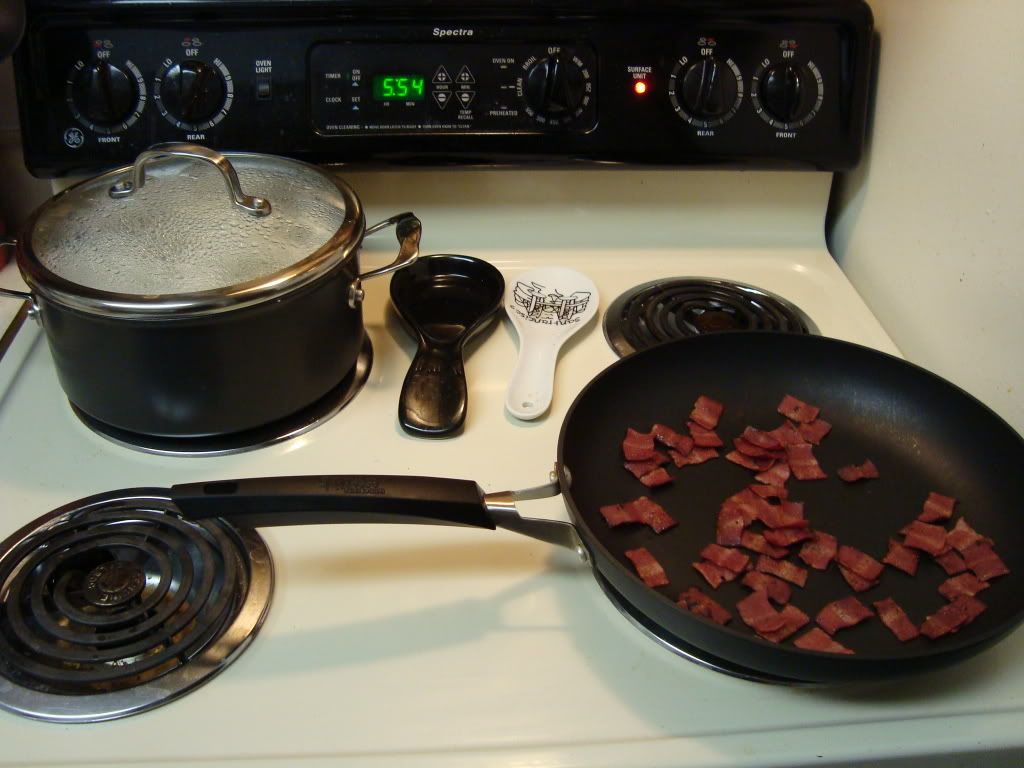 Transfer potato mixture to a greased 13x9 baking dish, sprinkle with cheese, onions, and bacon. Since the original recipe is titled "Make Ahead Mashed Potatoes", you can cover and refrigerate until ready to use. Since we made this ready to bake, omit the refrigerating portion. Bake, uncovered at 350 degrees for 40-50 minutes, or until heated through.
The End Result: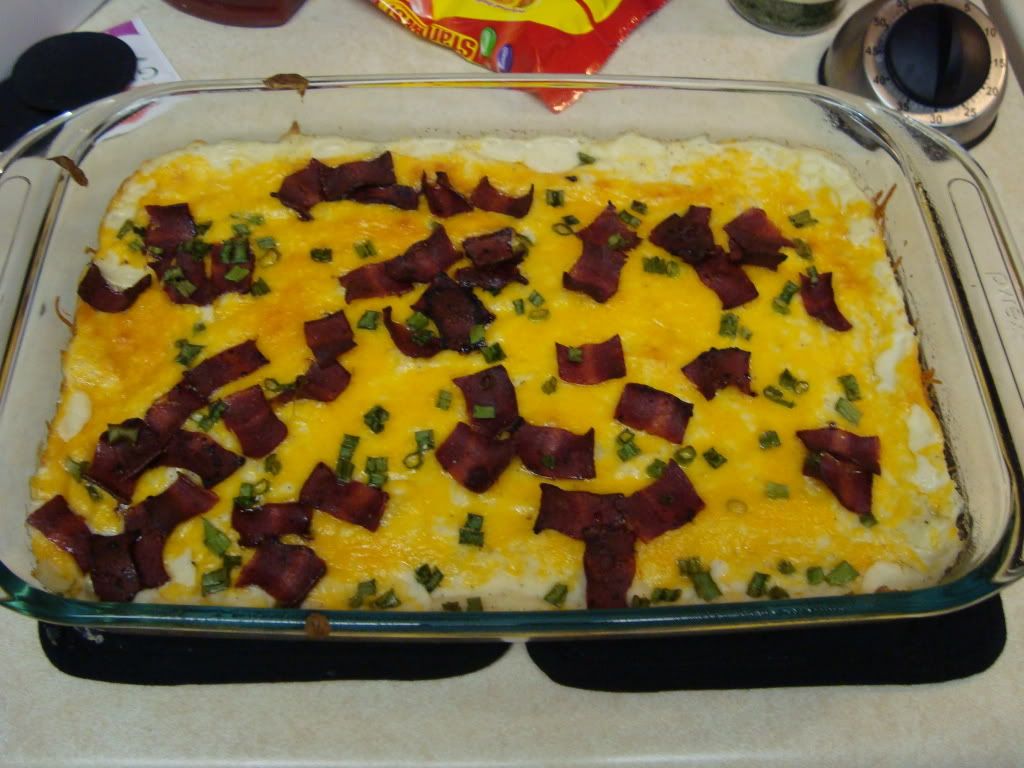 An incredibly flavorful dish that wasn't too hard on the stomach. All the seasonings and ingredients, adding to the already straight flavor of potatoes, made it a wonderful dish to eat. Plus the addition of cheese, bacon, and green onions made this stand on its own. And, since there's only two of us, there was plenty for leftovers. Overall, one of the best I've made and I'm pretty darn impressed!
Thanks Maggie! You can't beat a simple recipe that is packed full of flavor. That was the theme of the week - from the halibut to the steak to the pow-tatoes, this week was full of simple dishes with great flavor (accidental theme of the week I guess?)
That's all we have for you this week. Make sure to tune in on Monday for Around the Culinary World. Until then,
~Cheers