Happy St. Paddy's day - top of the evening, to ya (sorry, I couldn't resist.) As part of our new mission to eat healthier and begin a new active lifestyle, I've been trying really hard to find recipes that use everyday products and use them in a new way to make them extraordinary. With chicken, it's really not that tough. Granted the possibilities are endless to make this kitchen staple into something wonderful. Also, not to "dress it up" with heavy sauces, oodles of cheese, or a good deep fry in oil is a difficult task - people define that as "delicious" but I wanted to show that simple could be delicious, tonight, I wanted to take any preconceived notions of 'if it's simple, it's bland' and throw it out the window. But would it work?
The Recipe: Chicken in White Wine Sauce
Original Recipe Found In: Taste of Home, Recipe Card Collection
What You'll Need
2 Tablespoons All-Purpose Flour
1/4 Teaspoon Salt
1/4 Teaspoon Paprika
1/4 Teaspoon Pepper
4 Boneless, Skinless Chicken Breast Halves
1 Teaspoon Olive Oil
1/2 Reduced Sodium Chicken Broth
1/2 Cup White Wine or Additional Chicken Broth
4 Teaspoons Grated Parmesan Cheese
Start by combining the flour, salt, paprika, and pepper in a large resealable plastic bag. Add the chicken, one piece at a time, and shake to coat. This is a lot like shake-and-bake, the classic 'jazz up chicken' creation. However, unlike shake-and-bake, our breading is not loaded with sodium and other artificial flavors (i.e. junk) to ruin the natural flavors and nutrition of the chicken. This isn't a knock on shake-and-bake, more like a 'positive for doing it yourself'!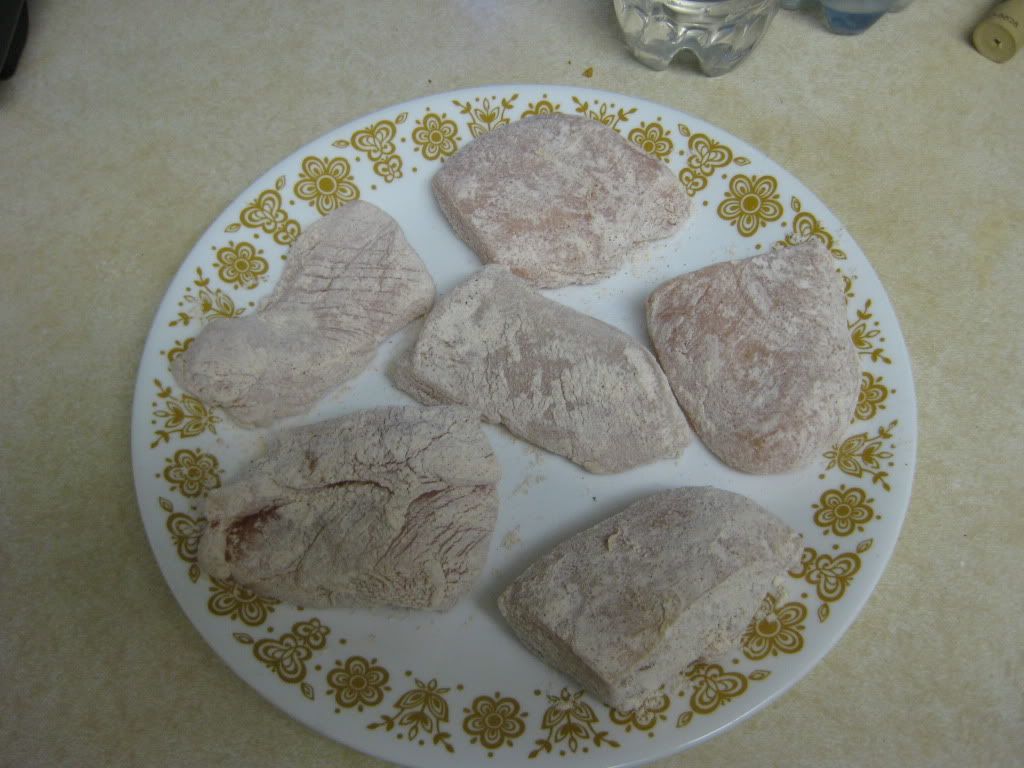 Next, in a large ovenproof skillet (or Dutch oven) coated with cooking spray, brown the chicken in olive oil for two minutes on each side. Once browned, add the broth and wine; bring to a boil. Remove from heat.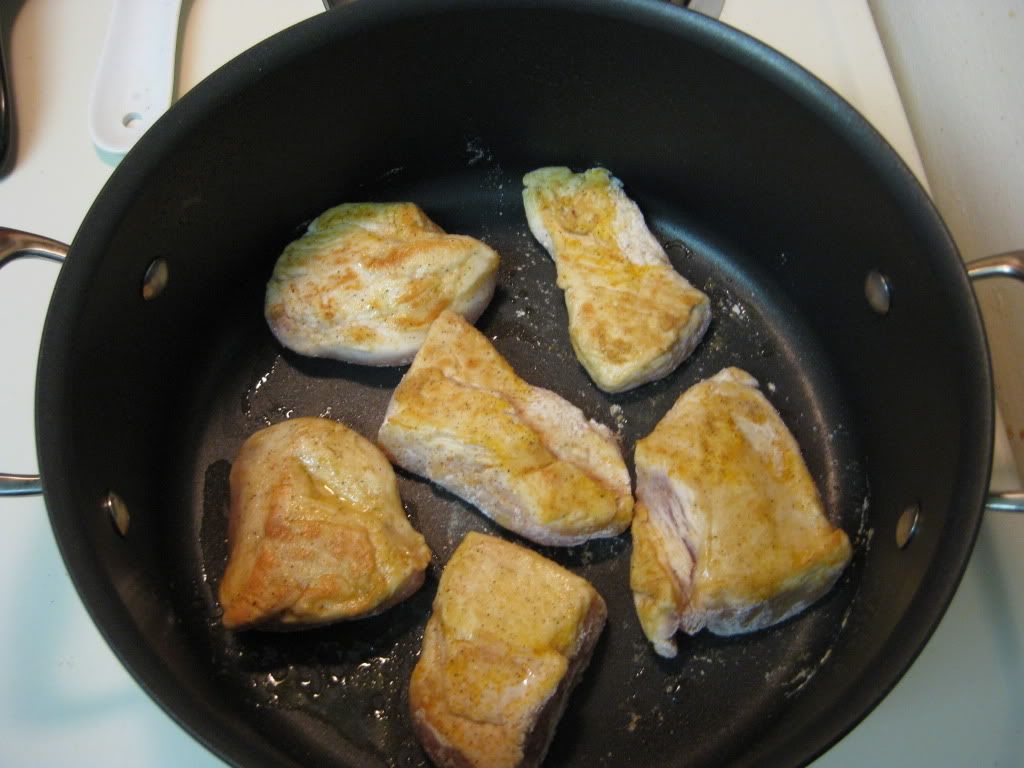 Cover and bake at 350 degrees for 20-25 minutes or until a meat thermometer reads 170 degrees. Sprinkle with cheese and enjoy!
The End Result: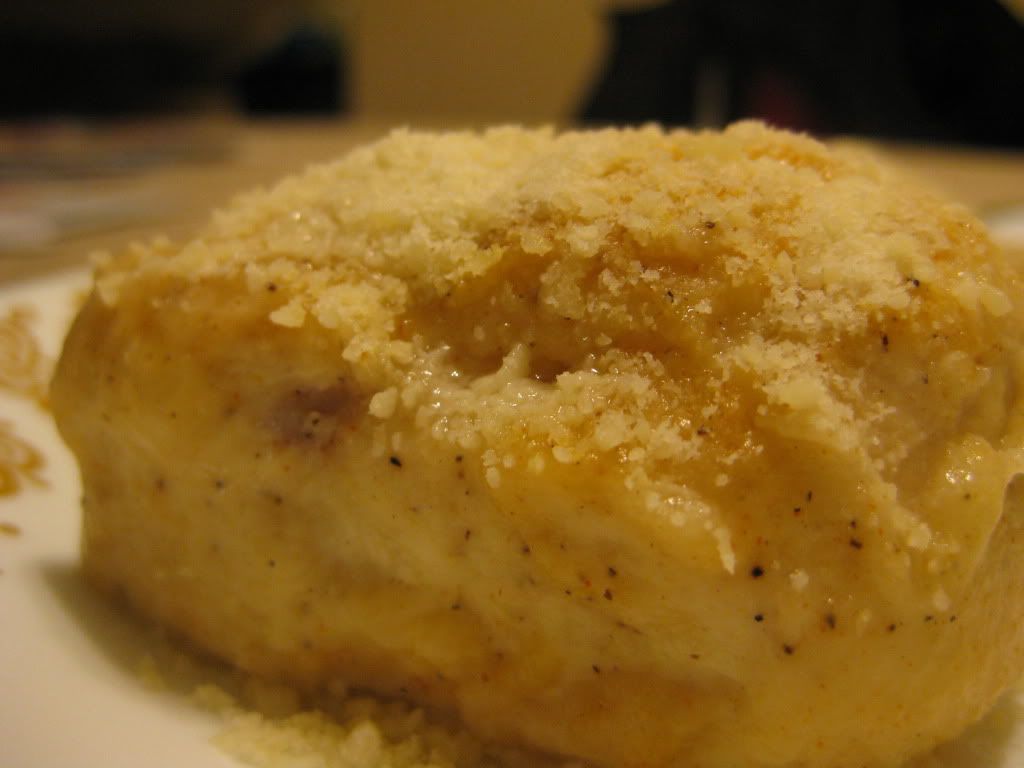 The chicken was incredibly juicy due to it's nice little bath of chicken broth and wine. The flour/salt/pepper/paprika gave it a nice coating, but not too heavy or thick of a crust. I topped mine with the parmesan cheese and it gave a whole different, but great, flavor to the dish. Tyler had his sans cheese and said it was still good. You could jazz the chicken up with some oregano or basil and it would be great too. A wonderful little dish that was incredibly easy prep, cook, and at 145 calories a half breast, great for the waistline too. Hope everyone is enjoying their St. Patrick's Day!!
Tonight's dish was the definition of simple. There is a reason that Maggie's description is only a few sentences long - it's that easy of a recipe! On top of that, it had an amazing flavor that was simply (almost) too good to be true. A dish this simple with this much flavor? Believe it - it was great. Well done Maggie!
That's all we have for you this week. We're back again on Monday with another Around The Culinary World. This week is shaping up to be a busy one, we've already compiled a few stories and there are a few more culinary tales I've bookmarked in today's news cycle. Stop back on Monday to check up on the culinary news - until then, enjoy what should be a beautiful weekend!
~Cheers