Good evening everyone! Welcome back to another edition of your favorite amateur cooking blog. Tonight, we're continuing on the 'fish theme' set up by last night's (delicious) almond & lemon crusted cod fillets. Instead of a conventional fillet, however, tonight we're going in a totally different direction.
Tonight's recipe is of Swiss origin. The dish, called salmon rosti is a potato based dish that uses leftover salmon to create a 'salmon patty'. This recipe reminds me a lot of the
salmon patties we cooked up last summer
- with the only major differences being that we are not using mashed potatoes for the base and we're using canned salmon in place of freshly cooked and shredded salmon fillets.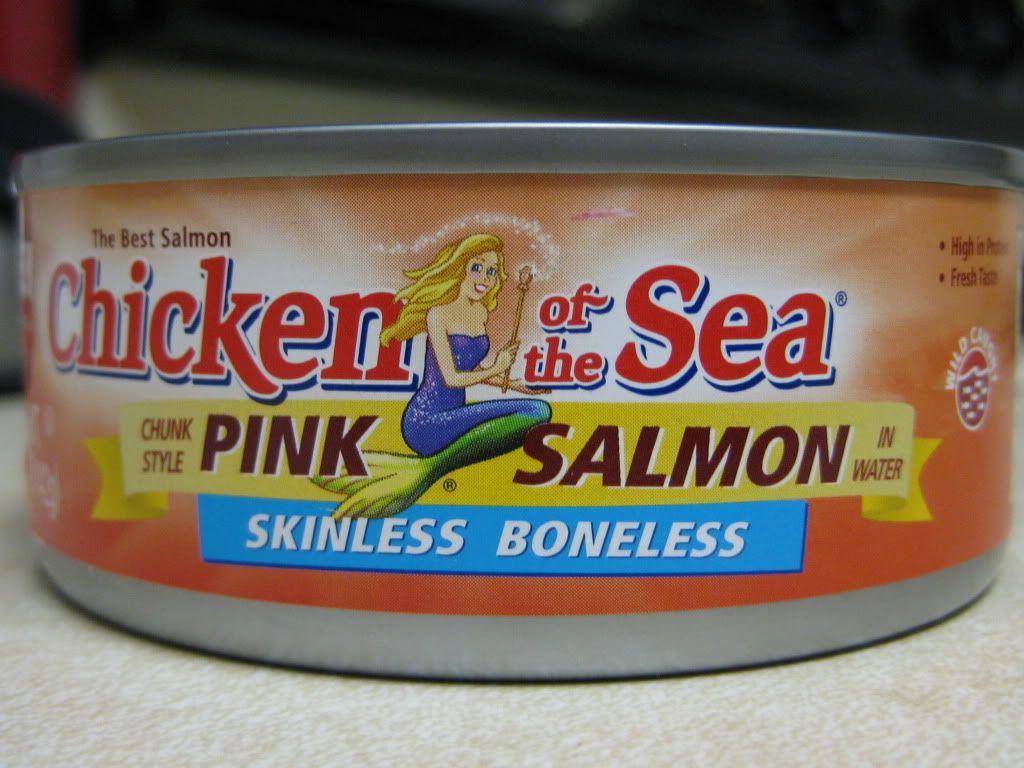 Yes, canned salmon. Up until a few days ago, I didn't even realize this existed - now I'm plopping it into a recipe. According to the cooking professionals, as long as you find canned salmon that is boneless and skinless, you should be able to use the canned variety for any purpose you would normally use salmon fillets.
(As an aside - it looks and smells very much like canned tuna - in fact, if it wasn't for the 'salmon' label, you would think it was tuna!)
If all of my time cooking has taught me one thing, it would be this; reserve judgement until after you have tried the recipe once. I was skeptical about last night's lemon / dill / almond combination and was (once again) pleasantly surprised at the amazing flavor the final dish delivered. So, despite my hesitancy about combining frozen shredded potatoes and canned salmon and topping all of that with a dill / sour cream sauce - I decided to take this Swiss dish head on. After all, it doesn't become a culinary classic without having some merit...right?
The Recipe: Salmon Rosti
Original Recipe Found In: Eatingwell.com
What You'll Need:
*(The original recipe makes 8 patties - adjust as necessary)
2 X 6 Ounce Cans, Canned Salmon (Boneless, Skinless Preferred)
1/2 Cup Chopped Red Onion
2 Large Eggs
1 Egg White (Lightly Beaten)
1 Tablespoon Whole Grain Mustard
3 Teaspoons Dried Dill
1/2 Teaspoon Black Pepper
1/4 Teaspoon Salt
4 Cups Frozen, Shredded, Hash Brown Potatoes
2 Tablespoons Olive Oil
1/3 Cup Reduced Fat Sour Cream
1 Teaspoon Lemon Juice
Begin by preheating your oven to 200 degrees (This is necessary if you are making more than 4 patties - you can place the finished patties into the oven to stay warm while cooking the remaining patties. If you are only making 4 - feel free to omit the oven step)
In a large bowl, combine the salmon, eggs, egg white, mustard, salt, pepper, 2 teaspoons of the dried dill, onion and the shredded potatoes. Mix well (it's a bit difficult if the shredded potatoes are large and thick, however, keep working at it and everything should blend together nicely).
Side note: This Tupperware egg separator is the greatest invention of all time... just saying
Heat 1 tablespoon of the olive oil in a large non-stick skillet over medium heat. Once the oil is shimmering, you are ready to start cooking your patties. To form the patties, use a 1 cup measuring cup (the metal/plastic variety *as pictured* work about the best for this) and fill it 2/3 of the way full with the salmon / potato mixture. Press the mixture down as much as possible. You are trying to work out any extra error or space. The patties will only truly hold together if they are compact - this step keeps you from creating salmon / potato omelets!
Once you've pressed up your patties, carefully place them in the skillet and cook (covered) 3 to 5 minutes or until nice and golden brown. I found that erring towards the longer time (4 to 6 minutes) yielded better results. Carefully turn the patties, and cook (once again, covered) for an additional 3 to 5 minutes. The second side seems to cook slightly faster, so be sure to keep an eye on the patties.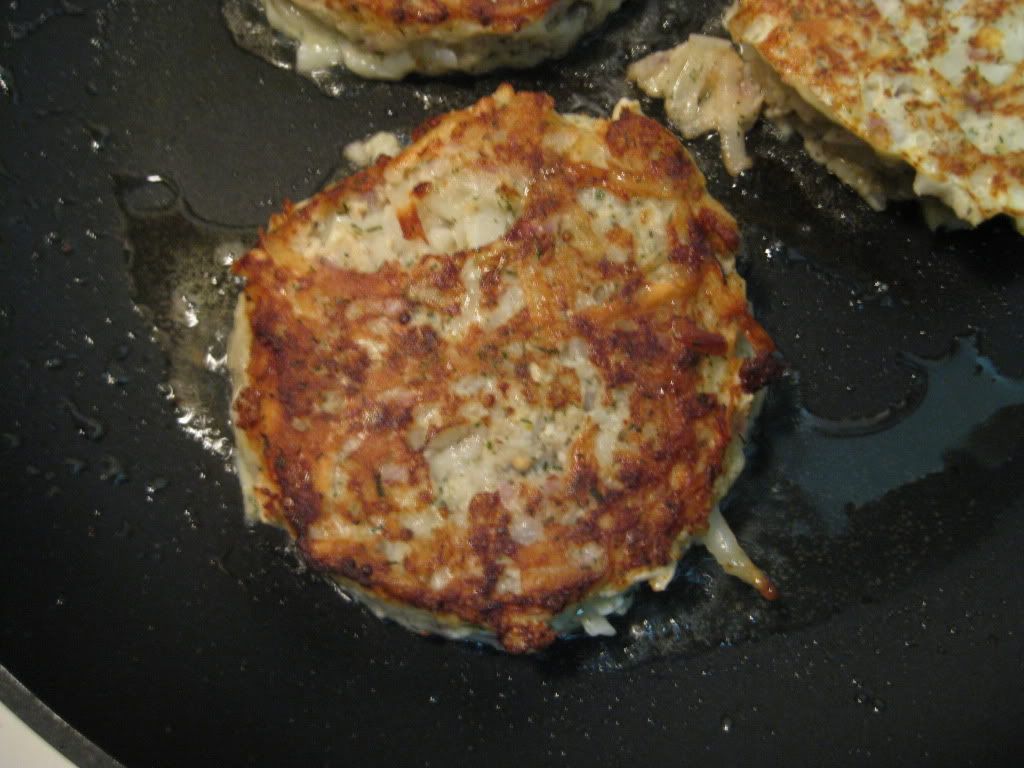 Once the first wave of patties are complete, place them on a oven safe plate or baking tray and into the 200 degree oven. Proceed on to making / cooking the remaining patties.
While you're finishing cooking the patties, you can make the sauce to serve atop said patties. In a small bowl, combine the remaining 1 teaspoon of dried dill with the sour cream and a teaspoon of lemon juice. Mix until combined.
Once all of your patties are complete, serve immediately with a side of the dill dip. This recipe compliments a nice side of green beans or scallions. If you don't want to make the dill dip - you can also serve this dish with dijon mustard, lemon juice or ketchup. I think all would be suitable substitutes - minus the ketchup, I'm not a big 'ketchup on my hash browns' fan. There are some out there that like it though, so if it's your cup of tea - have at it! (Although I'd recommend the dill dip - it completes the dish very nicely)
The Results:
I have to say, I am impressed with this recipe. Throw out any negative thoughts you have regarding salmon, because they don't apply to this dish. The flavors of tonight's recipe were like nothing I've ever tried before. I thought going into this dish that the final flavors would be reminiscent of breakfast - far from it. Instead the dish takes on its own, unique, not quite fish, not quite potato flavoring that ends up being very enjoyable. My preconceived notions about salmon in a can were thrown out the window (although I still wouldn't eat it by itself!). With a quick prep time and very little difficulty - this dish is certainly worth a try. (It's great on a budget too - canned salmon comes in at about $1 for a can and frozen hash browns (which come in 3 pound bags, and 3 pound bags ONLY it would seem) are a relatively cheap $2.50)
That's all we have for you this evening. Maggie closes out the week of cooking tomorrow night with two of her favorite things in the world. Her recipe tomorrow night is probably the third or fourth time we've tried this particular dish - but following the way of the blog - it's an entirely new way to prepare this meal. What does she have cooking? Well, stop back tomorrow night to find out! Until then,
~Cheers