Good evening everyone! I make my triumphant (okay, maybe not so much) return to the blog. I am definitely feeling 90 percent better than where I was two weeks ago. Granted, I still have some pains and my tummy doesn't look too appealing, but I'm ready to get cooking again.
As Tyler mentioned on Monday, we did meet a culinary icon. But before that, a brief history of how I got to know Julie Powell. Way before our trip into the the land of cooking, I saw an advertisement for a movie called "Julie and Julia
". I was intrigued, not only by the back story of Julia Child, but by this other woman who decided to cook all the recipes in one of Julia Child's cookbooks. In the ad, it also mentioned that this lady, Julie, had written a book based on her blog about her Julia Child experience. I am one for reading a book before I see a movie based on it - just to compare and contrast on what movie producers think is important to put in a movie from a 200-300 page book.
So I read "Julie and Julia: My Year of Cooking Dangerously
" and it was extremely funny. Reading this woman's experience from no cooking expertise to cooking boeuf bourguignon and all the hilarity that ensues made me literally laugh out loud. She is also very witty with her words and has a sharp tongue.
About two months after I read the book, Tyler and I saw the movie. Granted it wasn't as great as the book, it's still a cute little movie good for watching with your foodie friends (on a side note, if you want to read one man's hilarious assignment of watching "Julie and Julia" for one year, read http://lawrenceandjulieandjulia.blogspot.com/ - it is too funny to pass up.)
Fast forward two years and we're working hard on the blog when one of my co-workers mentioned that Julie Powell would be in the greater Des Moines region for an evening for a q & a session and a book signing. My jaw dropped to the floor and I was squealing with delight. Julie Powell is the foremother of cooking blogs and the opportunity to meet her and possibly name drop our blog would be great.
Fast forward to Sunday and her q & a session was hilarious and she was incredibly witty (just like her book, go figure!) This author by choice and foodie by chance said "Food is the prism in which all the world sees", meaning everyone connects with food - how we eat it, how we prepare it. Everyone is obsessed with food.
After an hour long chat session about her blog, cooking, writing, and her opinion on the movie "Julie and Julia", a book signing took place. We really didn't want to wait in line, so we quickly ran to the area where Julie would be signing books and we found ourselves in the beginning of the line. A couple minutes after, Julie walked to the table and we started our thirty second conversation. I mentioned that we have a cooking blog (not like she's heard that one before) and she inquired about the name. She laughed at the name and said "Clever!" We thanked her, commented on her writing, and it was on to the next person. One can only guess if she decides to check out our blog, but to have met two "inspirations" of our little blog means the world to us.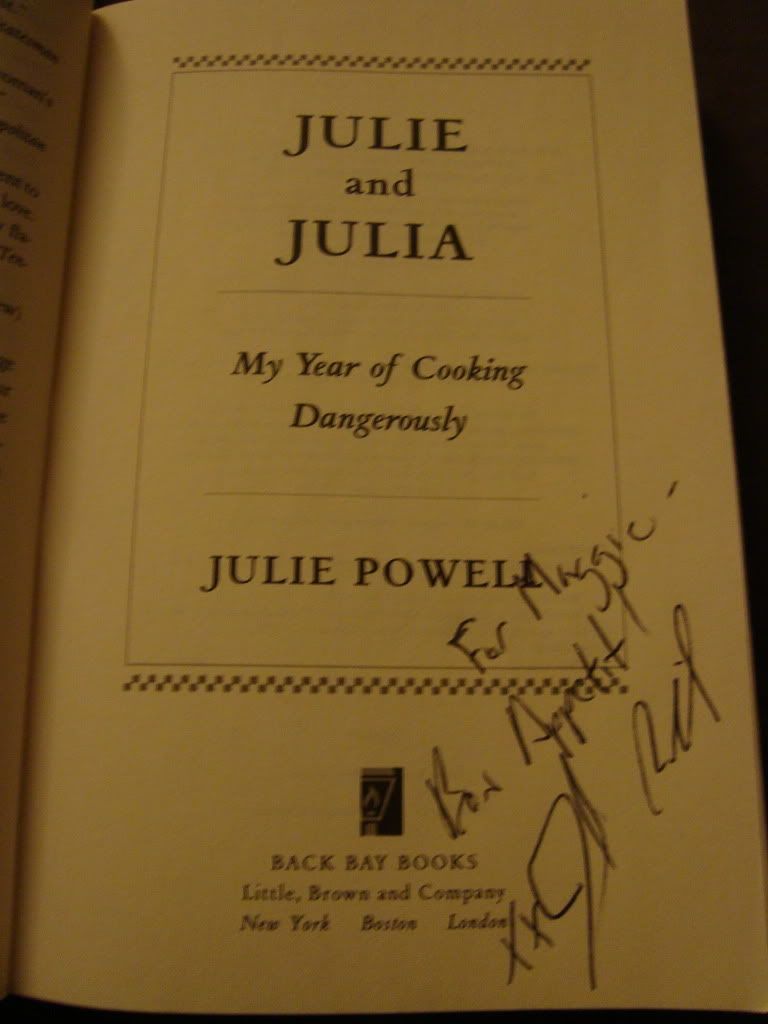 And we got an autograph :)
Anyway, on to this evening's dish, obviously extreme flavor is still a shaky ground, so something minimal flavor was key. Also, lack of an ingredient made things complicated. But, adding and substituting is what cooking is all about. So would the dish turn out alright?
The Recipe: Pan-Seared Strip Steak with Red-Wine Pan Sauce with Pink-Peppercorn Butter
Original Recipe Found In: Bon Appetite: February 2011
What You'll Need:
Pink-Peppercorn Butter:
1/2 Stick Unsalted Butter (room temperature)
1 Teaspoon Minced Fresh Thyme
1 Teaspoon Honey
1 Teaspoon Whole Pink Peppercorns
Steak:
2 10 Ounce New York Strip Steak
2 Teaspoons Extra-Virgin Olive Oil, Divided
1 Teaspoon Minced Fresh Thyme
1/4 Cup Thinly Sliced Shallot
1 Cup Dry Red Wine
1/2 Cup Low-Salt Beef Broth
Rub steak with 1 teaspoon oil, sprinkle both sides with thyme, then coarse salt and pepper. Let steak stand at room temperature 30 minutes.
Meanwhile, make the pink peppercorn butter: Combine the butter, thyme, honey, and pink peppercorns in a small bowl; mix with fork until peppercorns are slightly crushed. Since pink peppercorns are an EXTREMELY hard to find item and rarely used item, we decided to omit this ingredient. We figured that this would be a minimal flavor loss and it would be okay to not have it in. Season the butter with salt and pepper. Keep this mixture out of the fridge so the butter will be at a good room temperature when you'll need to use it.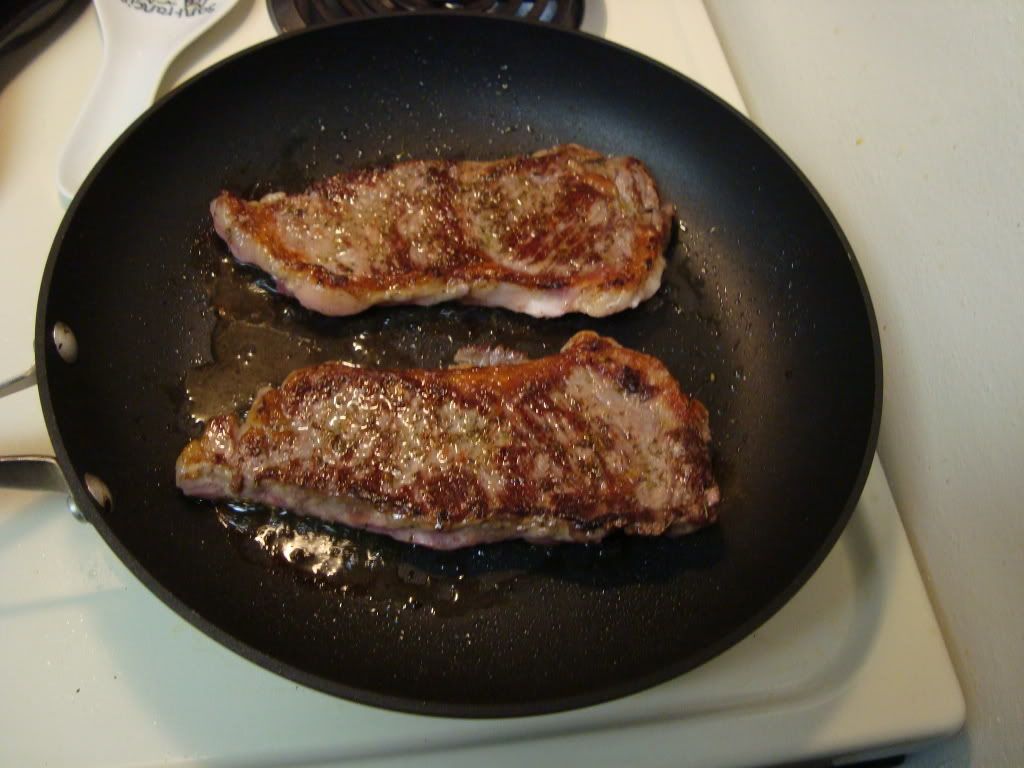 Steak sizzling away
After the steak marinates, heat a nonstick medium skillet over medium-high heat. Add steak; cook to desired doneness, 3-4 minutes each side for medium rare (or for those of us who like are beef not mooing, 6-8 minutes on each side.) Transfer steak to plate; tent with foil. Add teaspoon oil to skillet; add shallot and saute until slightly softened, scraping up brown bits. Add wine; boil until liquid is reduced by half, stirring often, about one minute. Add broth; boil until sauce is thickened, about two minutes. Whisk in three tablespoons (or the whole butter mixture) of the pink peppercorn butter. Season with salt and pepper. Slice the steak in 1/3 inch thick slices, serve with red-wine sauce, and enjoy!
The End Result: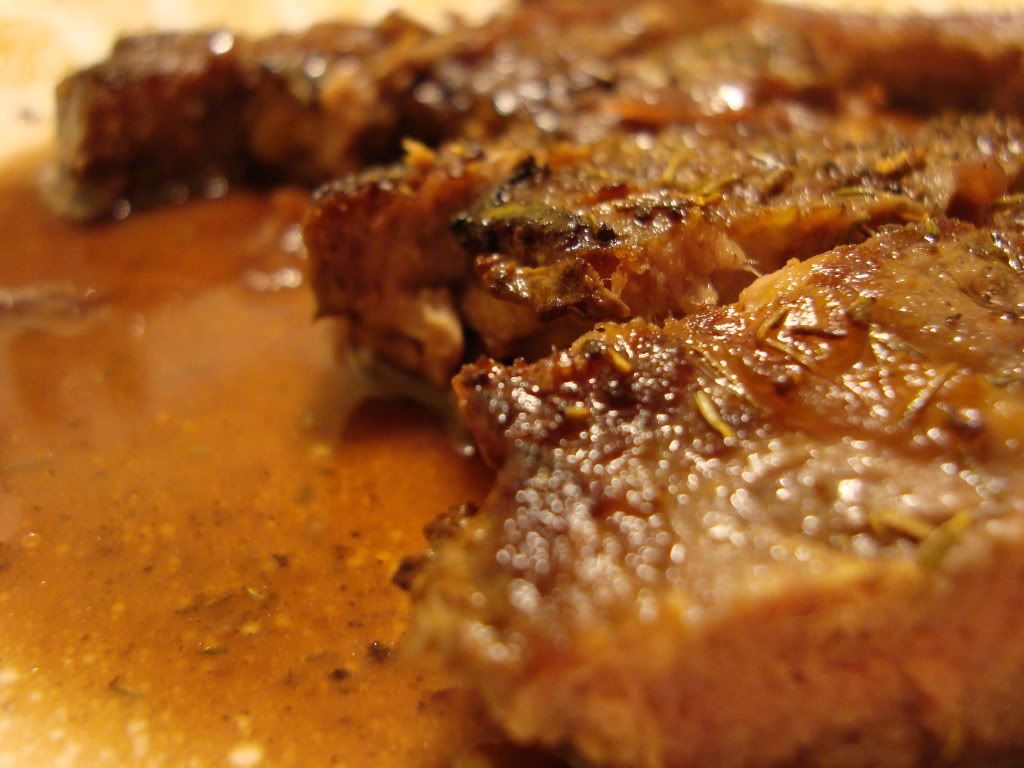 For something quite simple, it was really flavorful. The thyme added a nice mini crust to the steak and all the natural flavors of the steak infused with the thyme. The red wine sauce wasn't as thick as I would have liked it to been, but again, it added a good hardy flavor to the steak. Overall, a good flavorful dish without heavy seasonings or sauces.
(Tonight's blog was written, edited, illustrated and captioned 100% by Maggie! Most evenings, I edit, caption, add pictures and construct 95%-100% of the blog - tonight, Maggie was trained on doing it all herself. A round of applause for her 'all by myself blog debut. I did some minor editing and formatting, but tonight's blog is a result of her hard work! Bravo!)
That's all we have for you tonight. Maggie is back again tomorrow night with another tasty dish. Stop back in to see what she's got cooking. Until then,
~Cheers