Good evening everyone! As we round out another week and take a turn into April, spring is most definitely on the mind. Not only looking for fresh ingredients, but something that blends two unique flavors. Leeks, one of my favorite vegetables, is not only fresh but can be used in a lot of different ways. When I saw this recipe, it blew my mind. Not only the flavor combination, but how it's used is an ingenious way of doing it. Blending two strong flavors, like bacon and leek, cooked with an bland equalizer, risotto, made for a creamy, delicious meal.
The Recipe: Bacon and Leek Risotto
Original Recipe Found In: Bon Appetit, April 2011
What You'll Need:
5 Cups Low-Sodium Chicken Broth
1 Tablespoon Olive Oil
6 Slices Thick Cut Bacon (cut into 1/2 inch pieces)
2 Cups Thinly Sliced Leeks (white and pale green parts only, rinsed; about 2 large leeks)
1 1/2 Cups Arborio Rice
3/4 Cup Dry White Wine
3 Tablespoons Finely Chopped Fresh Italian Parsley
1 Tablespoon Butter
2 Tablespoons Finely Grated Parmesan Cheese
Bring broth to simmer in a medium saucepan; cover to keep warm. Heat olive oil in a heavy large saucepan over medium heat. Add bacon and cook until crisp. If you want to keep the calorie count lower (yes, this is a low calorie dish,) you can used turkey bacon. I am a huge advocate of turkey bacon - tastes like the real thing, without all that grease you get from normal bacon. Transfer bacon, using a slotted spoon, to paper towels to drain.
Add leeks to drippings in pan; cook until soft but not brown, stirring often, about 4 to 5 minutes. Keep 2 tablespoons worth for garnish. Add rice to the pan, stir for 1 to 2 minutes. Add wine, stir until absorbed, about 2 minutes.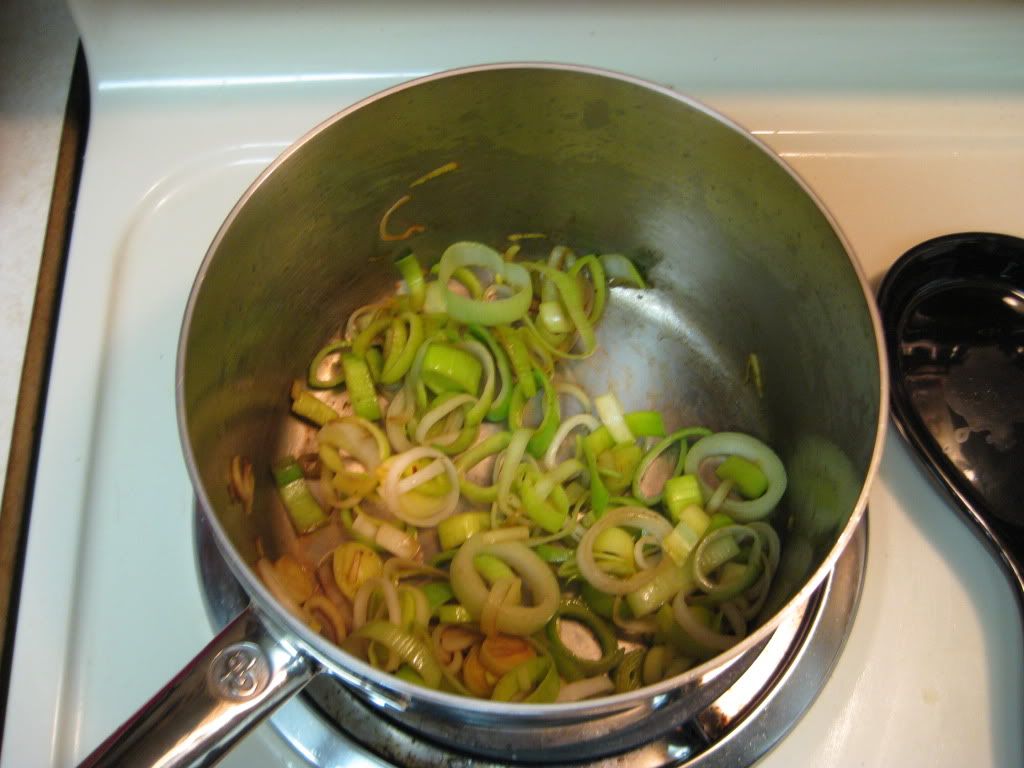 Lots and lots of leeks
Add 1/2 cup warm broth to saucepan, stir until broth is absorbed. Repeat adding broth and stirring until rice is tender but still firm to bit and sauce is creamy, stirring almost consistently, about 23 minutes (yes, you read right...23 minutes!) It could take up to 30 minutes, but remember to be patient with the rice; it will make for a beautiful result.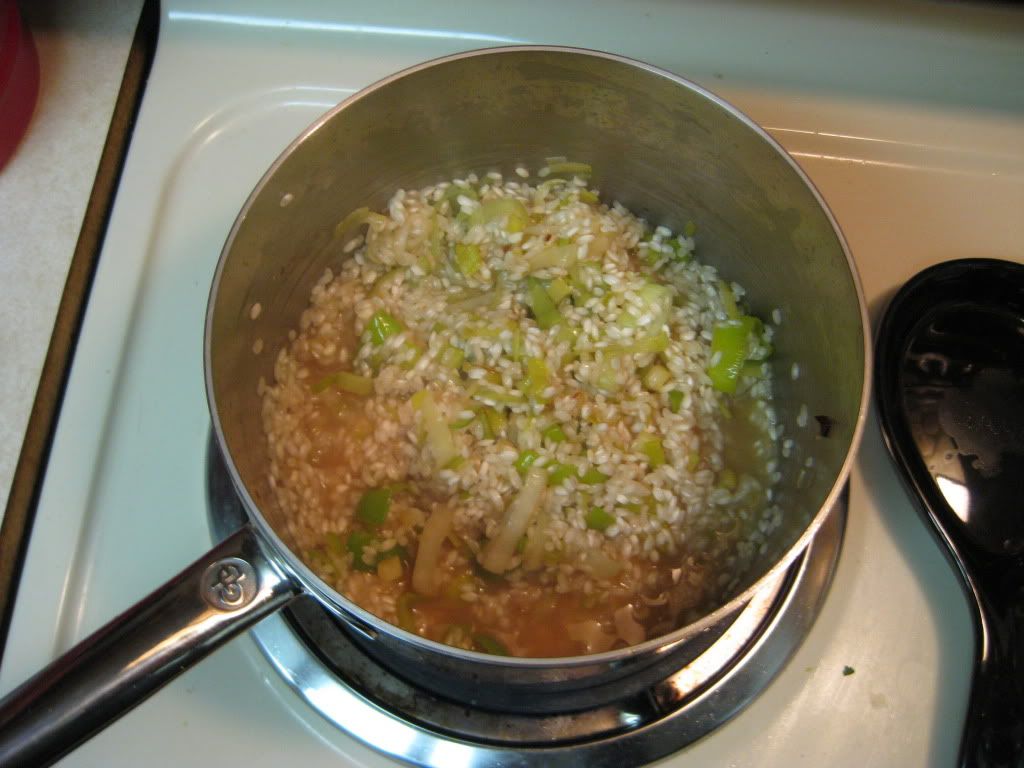 Risotto pre-stirring for 23 minutes
Add bacon, chopped parsley, butter, and 2 tablespoons of cheese. Season with salt and pepper and enjoy!
The End Result: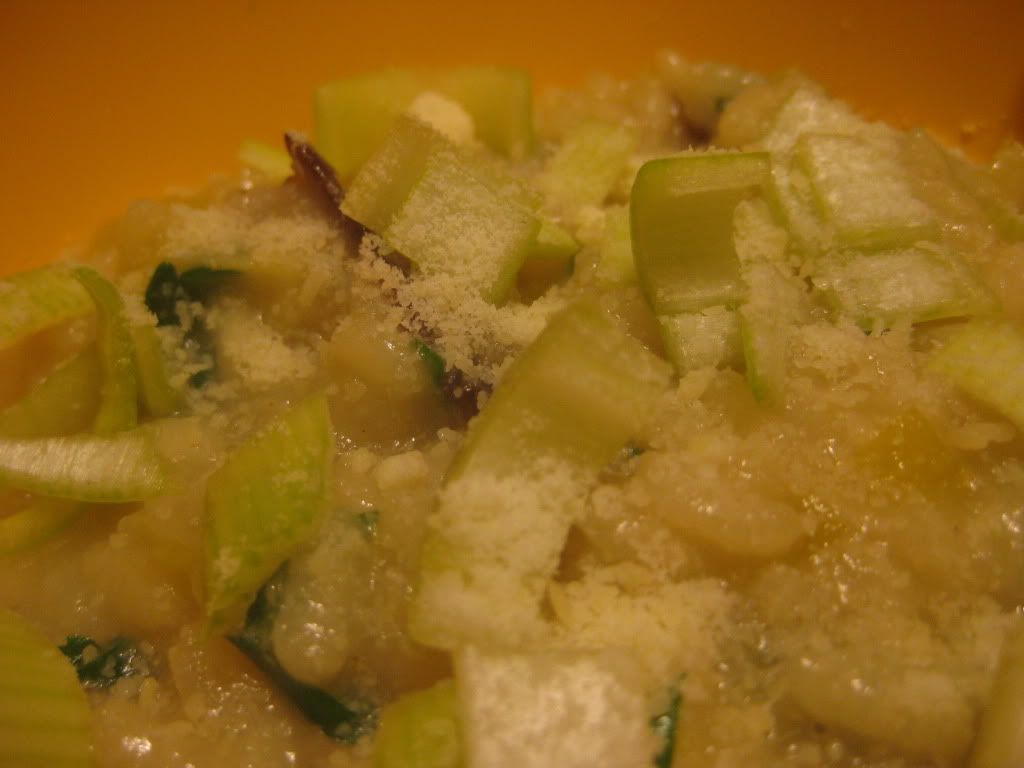 A smooth and creamy sauce combined with the onion-y flavor of the leeks and a strong texture of the bacon made for a wonderful and yet simple dish. Granted the stirring consistently (and constant babysitting of the risotto) for over 20 minutes did get rather...boring. But, like I said, if you stay with the risotto and continually watch over it, it will turn out a wonderful evening meal. And at under 400 calories a serving, it's a must for those watching their waistline, yet want a great tasting dish.
That's all we have for you this week! Stay tuned Monday for Around the Culinary World. Until then,
~Cheers!