Good evening everyone! On Out of the Culinary, we're always looking for new flavors that make our heads turn. Unique flavors that inspire new ways to try dishes. When I found this recipe and saying the name out loud, it sounded normal enough. When I delved into the ingredients, it really hit me. Would the different flavors work out in the end or would it end up one big mess?
The Recipe: Lemon-Sage Chicken
Original Recipe Found In: April/May 2011
What You'll Need:
4 Boneless, Skinless Chicken Breasts
3 Eggs, Beaten
1/4 Cup Grated Parmesan and Romano Cheese Blend
1 Tablespoon Minced Fresh Parsley
1 Teaspoon Dried Basil
1/2 Teaspoon Salt
1/8 Teaspoon Pepper
1/2 Cup All-Purpose Flour
2 Tablespoons Olive Oil
Sauce:
2 Tablespoons Chopped Shallot
3 Garlic Cloves
1/4 Cup White Wine
4 1/2 Teaspoons Lemon Juice
1 Tablespoon Minced Fresh Parsley
1 Teaspoon Dried Sage Leaves
1 Teaspoon Grated Lemon Peel
1/2 Cup Heavy Whipping Cream
3 Tablespoons Cold Butter, Cubed
Start by preheating an oven to 375 degrees. Then flatten the chicken to 1/2 inch thickness using a meat tenderizer (note: even though you might have a stressful day and will want to pound the living daylights out of the chicken, keep it kind of thick.) In a bowl, combine the eggs, cheese, and seasonings. Place and smooth out the flour on a small plate. Coat the chicken completely with flour and then dip it in the egg mixture. Sounds like the wrong order of doing things, right? Trust me, it will work out in the end.
In a large skillet, brown the chicken in the oil, about 3-5 minutes, depending on how brown you want your chicken to be. Transfer chicken to a greased baking dish. Bake in the oven for 15-20 minutes, or until a meat thermometer reads 170 degrees.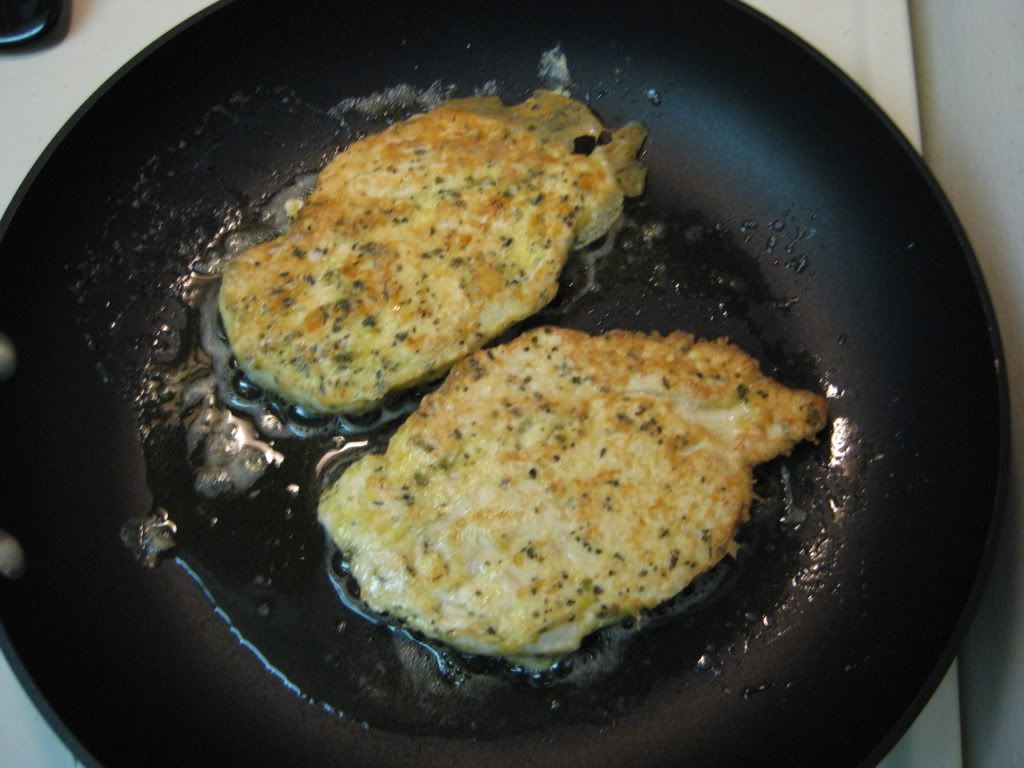 Crispy chicken
In the drippings left in the skillet, saute the shallots until tender. Add the garlic for another minute. Add the wine, lemon juice, herbs, and lemon peel. If using freshly grated lemon, BE VERY CAREFUL - you don't want to have freshly grated skin in the sauce (it's not an appealing flavor or feeling.) Cook over medium high heat until liquid is reduced by half. Add the cream; cook until thickened, about 4 minutes. Stir in the butter until melted, about three minutes.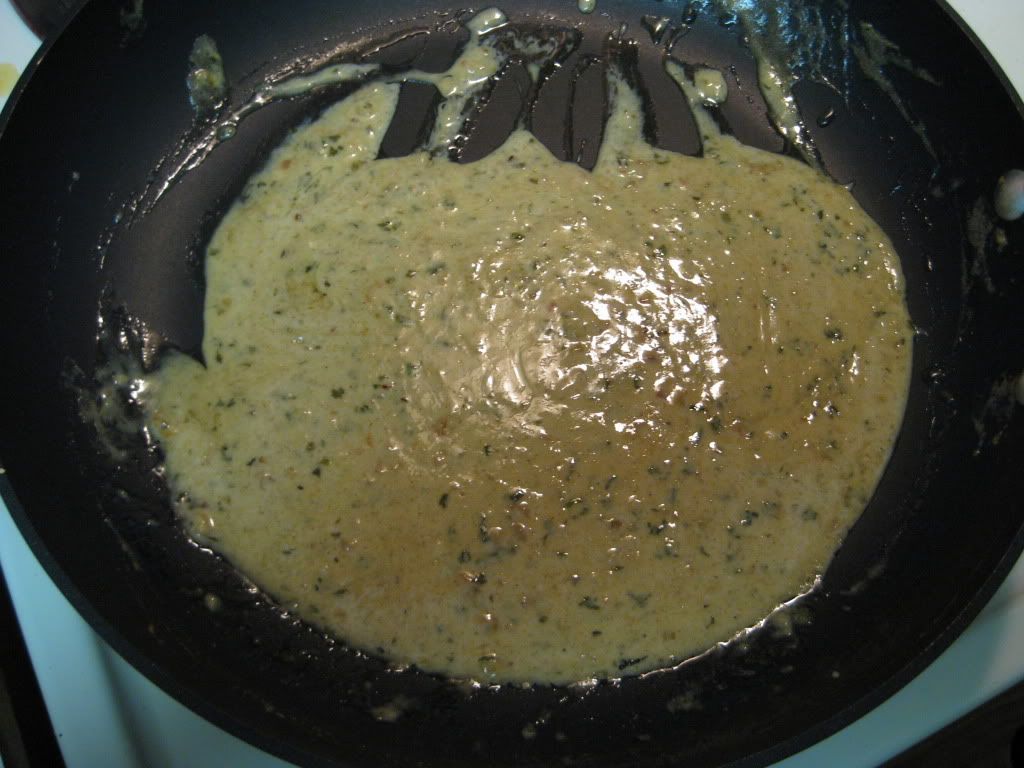 Creamy, citrusy sauce
Once the chicken is done cooking, drizzle with sauce, serve, and enjoy!
The End Results: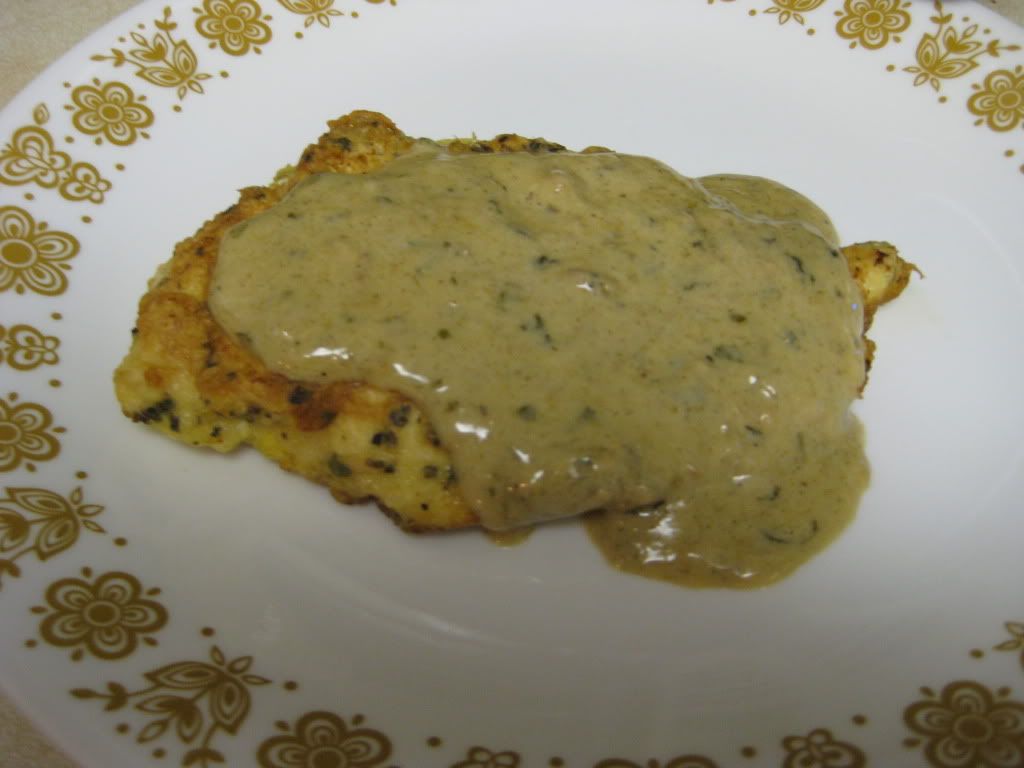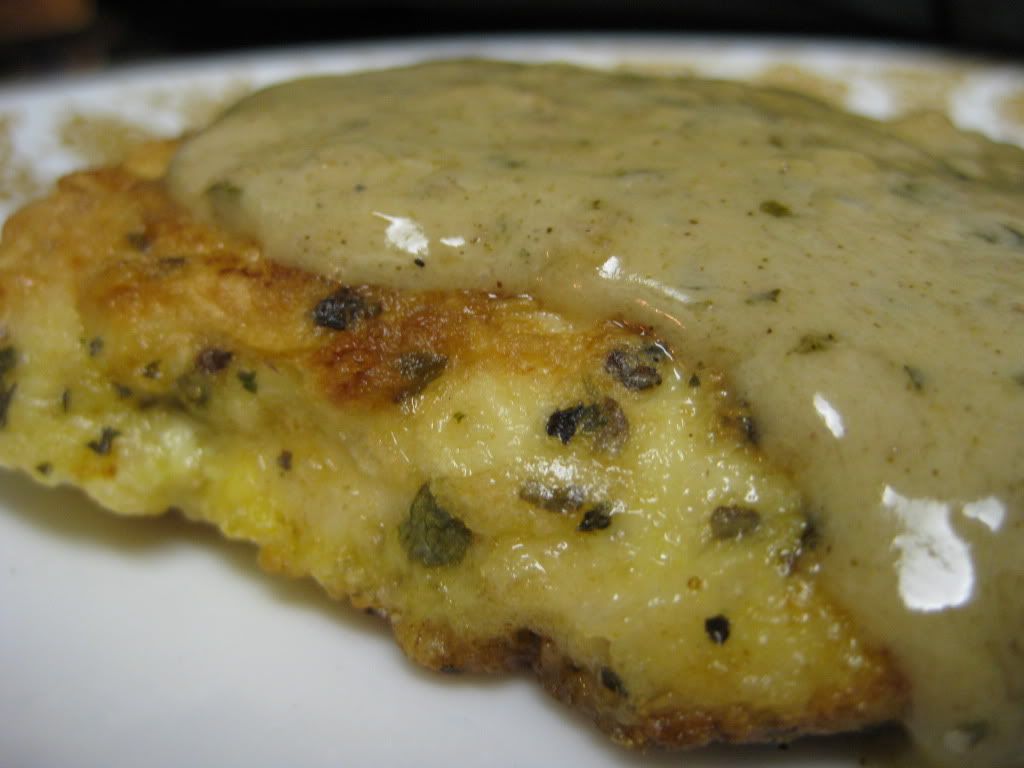 I expected this dish to have a real herby, earthy flavor to it. But the potent flavor of lemon really shined through. It gave it a nice equalized taste of citrus herbs. Not only that, but the sauce was really creamy too (another thing I didn't expect.) The chicken, coated in flour and eggs, gave a good solid stabilizer to the entire dish. It helped harmonize all the ingredients that seemed kind of strange, but ended with tasty results.
That's all we have for you this evening. Make sure to come back on Thursday for my recipe. Until then,
~Cheers