Good evening everyone! One of our favorite meals is the simple hamburger. To be fair, with our fantastic cracking burger recipe, which results in a fool proof, delicious burger 100% of the time, we can get creative with the toppings and end up with a fantastic dish every time. With such a high success rate, it's easy to become a favorite dish.
We've tried just about every known variation of the humble hamburger. From the
classic
, to the
adventurous
. You'd think we've tapped out our hamburger ideas - you'd be wrong. I came across a recipe last week that combined two interesting dishes - steak fajitas and the american hamburger. The only downside is we can't use the tried and true cracking burger recipe. Would branching out into the unknown world of untested hamburger recipes prove successful? The answer all depends on your personal tastes.
The Recipe: Fajita Burgers
Original Recipe Found On: Eatingwell.com
What You'll Need:
1 Pound Lean (90%) Ground Hamburger
3/4 Cup Chopped, Fresh Cilantro (Divided)
1/2 Cup Chopped Red Onion
1/4 Cup Chopped Scallions
2 Teaspoons Minced Garlic
1 Tablespoon Chili Powder
1 Teaspoon Ground Cumin
1/2 Teaspoon Dried Oregano
1/2 Teaspoon Ground Black Pepper
1/4 Teaspoon Salt
1/3 Cup Reduced Fat Mayonnaise
1 Tablespoon Lime Juice
1/2 Cup Shredded Monterrey Jack Cheese
2-4 Rolls (Whole Wheat or any variation of your choice)
2-4 Tomato Slices
2-4 Thin Slices Of Red Onion
This recipe can be as tame or as aggressive as you want it to be. If you're like Maggie and I (Read: wimps) you can choose to make the burger just like it is listed above. However, if you're really into spicy and fire inducing dishes (read: insane) you can add the follow ingredients to the hamburger mixture:
1 Chopped Chile (Red)
1 Teaspoon Chipotle Chile
Begin by mixing your hamburger in a large bowl with the oregano, 1/4 cilantro, scallions, cumin, onion and salt & pepper. Mix with your hands until everything is combined. This is a fairly complicated mixture, so it could take a few minutes of kneading and patting to make all of the ingredients (especially the cilantro leaves) stay within the hamburger mixture. Once mixed, break the meat into four separate patties. The original recipe calls for the patties to be broken down into oval shapes (to better accommodate an oval roll) however, there is zero reason to do this if you're using a standard bun. Work the patties into a shape that resembles your choice of roll and set aside.
Meanwhile, combine the mayo with the remaining cilantro (and chipotle chile if using) in a medium bowl and mix well. Place in the refrigerator until you are ready to serve the burgers.
Using a grill pan, grill or your own personal 'lean mean grilling machine' (a favorite of ours)
cook the hamburger patties until they reach your desired level of 'doneness'. With all of the extras floating around in this burger, the cook time increased to about 8 minutes for our burgers. However, we also made our patties a little thicker than a standard burger. Just be sure to monitor the burgers closely after 5 minutes of cooking.
Once the burgers are cooked (or slightly before) add the shredded cheese to the top and allow it to melt. Serve the burgers on the rolls/bun with the cilantro mayo and enjoy!
The Results: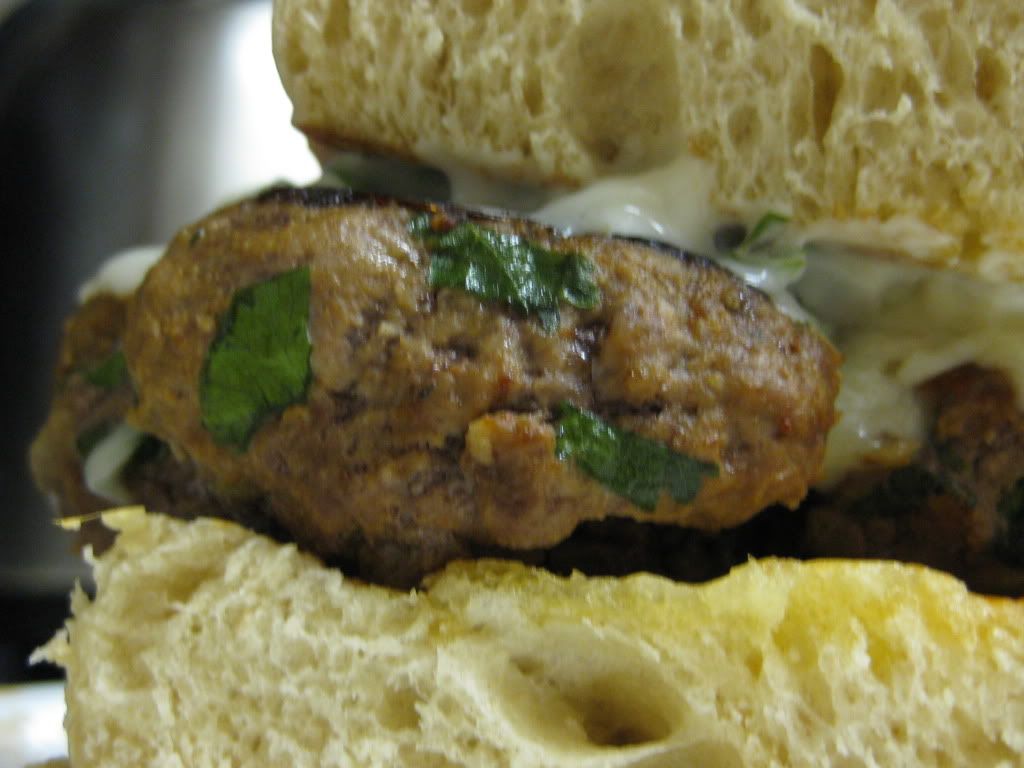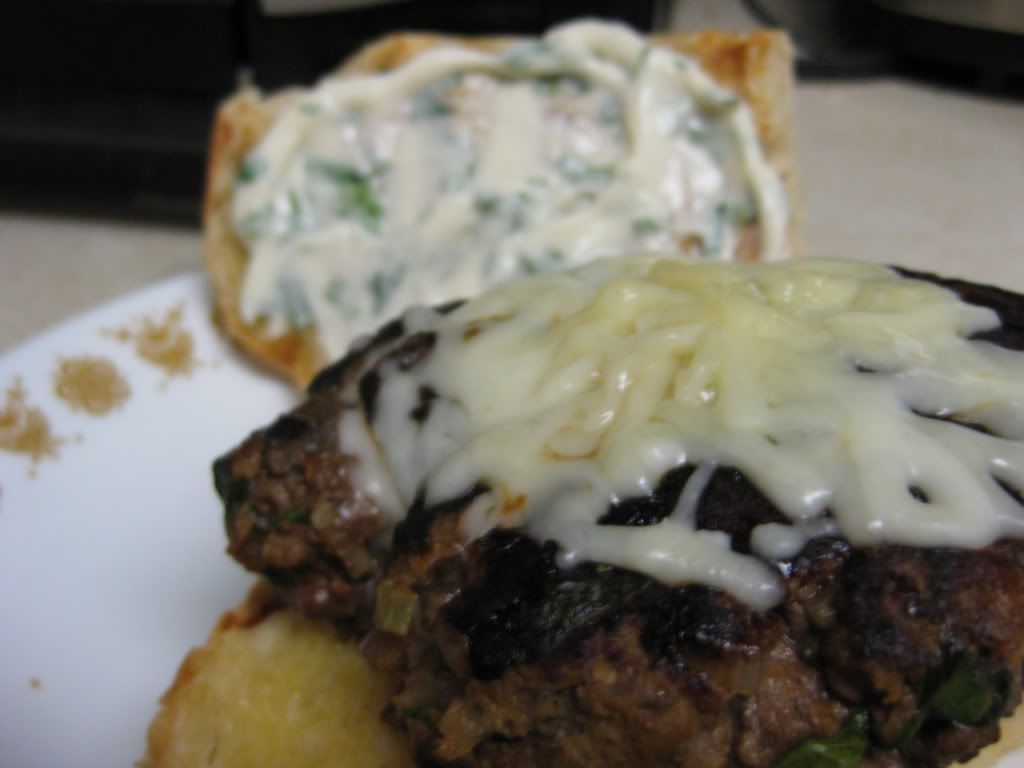 Depending on who you ask, this recipe was either a success or simply 'meh'. Maggie, who is a big fan of cilantro, absolutely loved the dish. To her, the flavors that burst from the burger were the quintessential 'fajita' flavors, all molded into one delicious and juicy hamburger patty.
I personally wasn't the biggest fan of the burger. I felt like it was trying to do too much within the patty and the flavors simply ran over themselves instead of complimenting each other. On the other hand, I don't really like a lot of cilantro, and since that particular herb runs this dish - it's logical that the flavor wouldn't exactly thrill me.
In short, if you love cilantro and the flavors that accompany a steak fajita, you're really going to love this recipe as it is essentially a fajita on a bun. If you're more like me, and prefer the good old americanized hamburger, stick with our tried and true champion, the
cracking burger
.
That's all we have for you this week. As always, thank you for stopping by and checking out what we were cooking for the past week. We're back on Monday with all the news that's fit to blog about, and then we'll be in the kitchen on Tuesday & Thursday with all the food that's fit to eat! Have a great weekend everyone and we'll see you on Monday!
~Cheers