Good evening everyone! As Maggie mentioned in the beginning of her tostada recipe last week, we like to add a little spice to our menu every once in a while by cooking 'south of the border' if you will. A little Mexican influence is the easiest way to take our normal meal options and spice them up. Case in point, Maggie's fantastic tostadas from last week. On the surface, it's nothing more than a sloppy joe on a taco shell, but with the right blend of ingredients it blends into a supernova of flavor and deliciousness that easily ranks up there in Maggie's top 10 recipes. Now, once we do a theme, we like to give it a week or two to breathe. We don't want to seem redundant and overdo one particular cooking category. This week, we're breaking that rule for one reason and one reason only - we have a whole heck of a lot of tostadas left! The only package we could find at our local grocery store was a 24 pack. We only used 6 for Maggie's recipe last week, so my challenge this week was to find a recipe that used tostadas - because, you never want to waste food if you can avoid it! So, for the simple purpose of 'we have extra tostada shells' here's my recipe for the week:
The Recipe: Turkey (or) Chicken Tostadas
Original Recipe Found On: Eatingwell.com
What You'll Need:
1 Can Petite Diced Tomatoes (For extra heat, choose the kind that includes jalapenos)
1 Medium Onion (Thinly sliced)
8 -12 Ounces Shredded Cooked Turkey or Chicken (See photo below)
1 Avocado Pitted (See note below)
1/4 Cup Prepared Salsa
2 Tablespoons Reduced Fat Sour Cream
2 Tablespoons Fresh Chopped Cilantro
1/2 Cup Shredded Monterrey Jack Cheese
A great shredded chicken option
Note: If you don't want to go to the hassle of pitting and preparing an avocado (not my favorite thing to do) you can purchase pre-prepared avocados in the form of avocado paste or prepared guacamole. Check the ingredient list if you're purchasing prepared guacamole. So long as the contents are limited to avocado and very little else, it works as a great substitute. We use 'Wholy Guacamole' (photo below) in place of avocados for all of our recipes.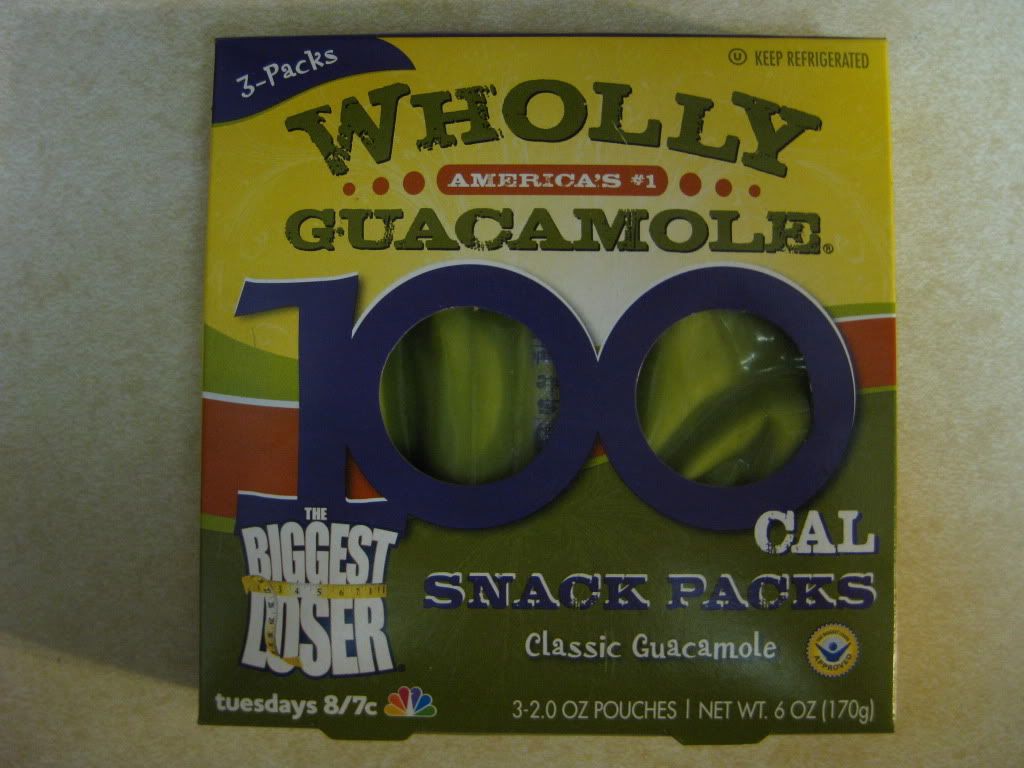 Begin by bringing the diced tomatoes (juice included) to a boil in a medium saucepan over medium high heat. Once boiling, add the onion and cook until the onion has softened and the juice has slightly reduced in the tomatoes (the mixture will become less like a soup and more like a thick stew) this should take about 15 to 20 minutes.
Next, add the turkey (or chicken) and cook until heated through, roughly 2 to 5 minutes. This is why pre-cooked chicken/turkey is the key to this recipe. All you're trying to do here is infuse the flavor into the meat and bring everything up to temperature. Attempting to actually cook the poultry in the tomato mixture would double cooking time and lead a rubbery, bland chicken texture when everything was complete. If you opt to cook the poultry yourself - be sure to pan fry the chicken or turkey prior to starting on the recipe. The poultry has to be pre-cooked.
Next, (if you're using fresh avocados) mash the avocados in a bowl (that's why we say you can use paste or guacamole - it's all going to end up mashed anyway!). Add the salsa, sour cream and cilantro and stir until combined. Set the mixture aside.
If you don't have tostadas on hand, you can make your own by coating a regular flour tortilla with cooking oil and baking on the upper rack of a 375 degree oven for 10 to 15 minutes, or until they're lightly crispy. However, as we established - we had extra tostada shells, so we skipped this step.
Next, you can begin to assemble your tostadas. Spread a thin layer of avocado mixture on the bottom of the tostada. Next, add the chicken mixture and top lettuce, shredded cheese and extra sour cream if you so desire. All that's left is to enjoy!
The Results: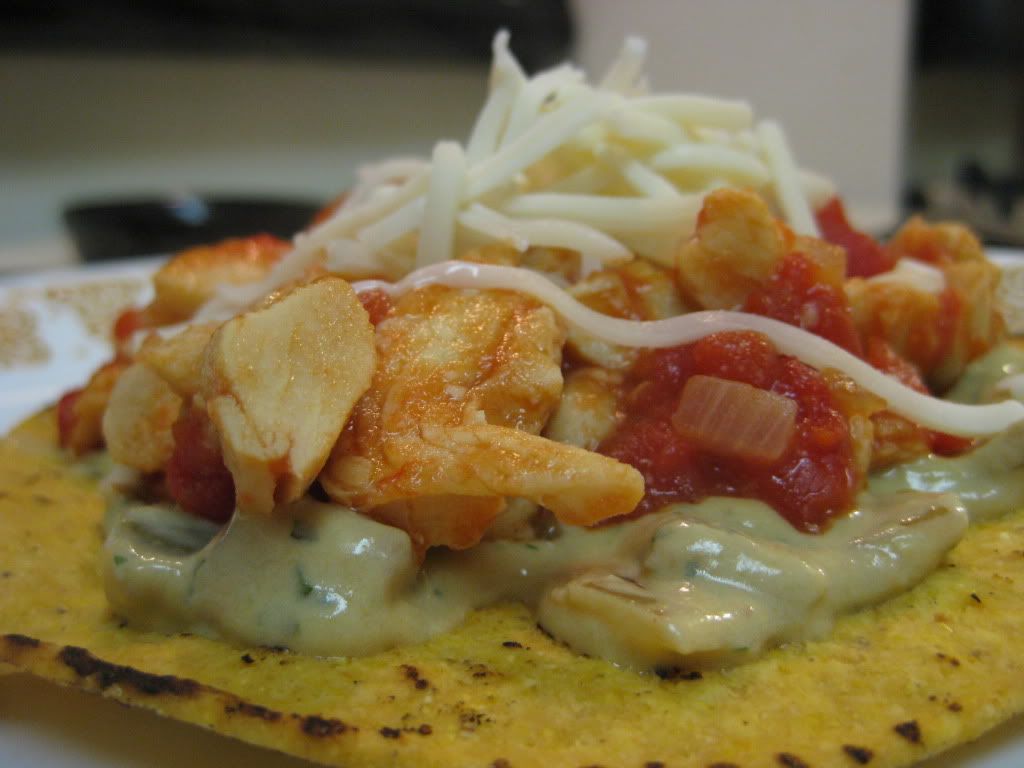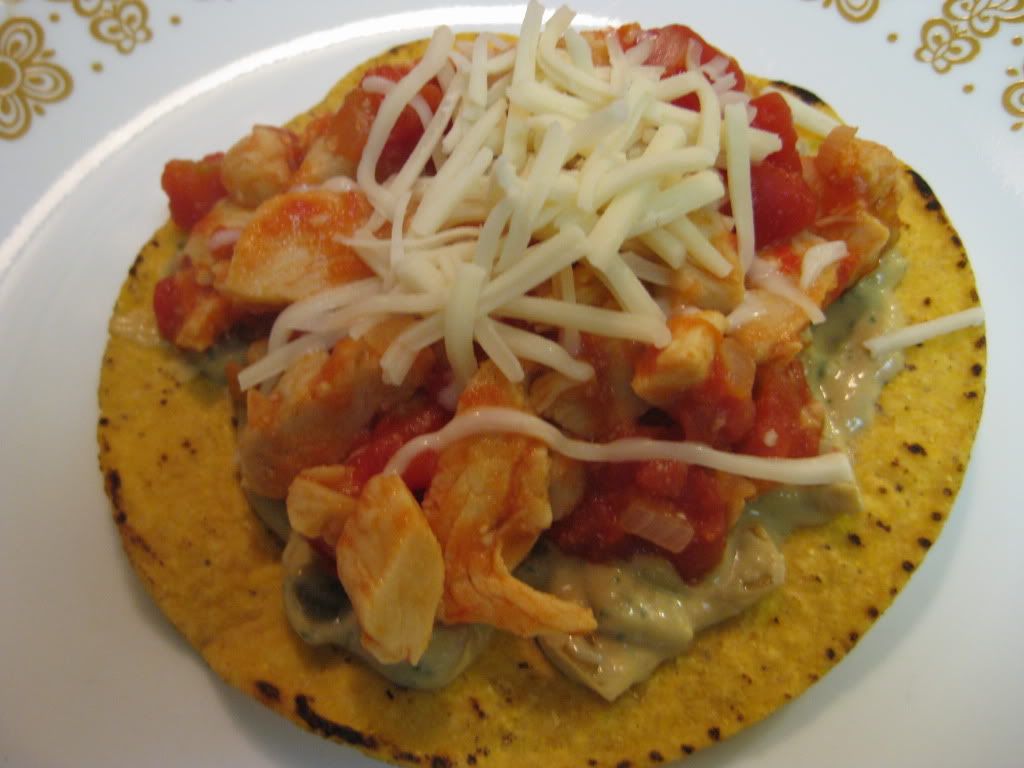 My recipe tonight was similar to Maggie's from a week ago in construction and concept, but it differed greatly in ending flavor (in a good way). Maggie's dish tasted like a fantastic taco - full of spicy and zest Mexican flavor. My tostada ended up tasting light and fresh - not at all like a traditional taco or burrito, but it still packed a very authentic Mexican cuisine taste. With 30 minutes of total preparation time and a clean, fresh (yet distinctly Mexican) final flavor, this recipe joins Maggie's dish from a week ago as 'sure fire' hits for the whole family. Give them both a try ASAP!
That's all we have for you this week. I know our summer schedule has been light, but it has allowed us to do 2 things. First, we've been able to walk every night the weather has cooperated, which is a nice relaxing way to end a busy day for the both of us. Secondly, we've been able to dedicate more time to our blog posts. We're able to research the recipes more, put more time and thought into our blog posts and really work to put out a high quality finished product. Three posts a week seem to be the 'sweet spot' for quality and quantity on the blog. We've seen a great surge in traffic lately, we're actually averaging over 1,000 page views a month now. It's great to see our little 'hobby' that started up (almost) one year ago today is starting to draw an audience. Welcome new readers, thank you old readers and to everyone - thanks for sharing in our cooking for this week! We're back on Monday with another trip around the culinary world, until then, have a great weekend and as always,
~Cheers