Good evening, everyone! I've noticed that all the recipes I create week after week, have some sort of story to them. Granted, I can't really place why I do this, but it is a reoccurring them I have. After this week, that will hopefully change – wish me luck!
With that being said, after the suggestion from a blog follower, my middle sister Katie, asked if we could do a recipe that might cater to special diets, for instance, gluten-free diets. There is a growing amount of the population that is allergic to gluten (check the healthy section of your local supermarket, you'll see the proof of gluten-free products spanning the whole section.) Granted, I am no expert in the food sciences or any sort of doctor, but it makes you wonder if certain people are born with any kind of food allergy or if it progresses as a person ages. Anyway, time to step off the soap box and on to cooking.
Trying to find a recipe that was gluten-free was some sort of a challenge for me. I tend to lean toward the carb heavy recipes. But I really wanted to push myself and find something that is considered "gluten-free" and also incredibly flavorful. I think this recipe might do just the trick.
What You'll Need:
(serves 4)
1/2 Cup Rice Wine or Medium-Dry Sherry (we opted for the sherry in our version)
1/4 Cup Strong-Brewed Black Tea
1/4 Cup Unsweetened Pineapple Juice or Orange Juice
2 Tablespoons Reduced Sodium Soy Sauce
1 Tablespoon Honey
1/2 Teaspoon Ground Cinnamon
1/2 Teaspoon Ground Ginger
1/2 Teaspoon Freshly Ground Pepper
1/4 Teaspoon Salt
4 Boneless, Skinless Chicken Breasts, Trimmed
1 Tablespoon Peanut or Canola Oil, Divided
1 Small Red Bell Pepper, Diced
2 Scallions, Sliced
1 Clove Garlic, Minced
To begin, combine the rice wine/sherry, tea, juice, soy sauce, and honey in a two cup glass measuring cup. Set this combination aside. We scoured our local grocery store for "unsweetened pineapple juice" and let me tell you, it was very hard to find. We weren't about to go to another store to try to find it (like we do with many exotic ingredients) so we opted for a unique choice. We bought a can of pineapple chunks, in a no sugar added juice, and used the juice from the can for our recipe. It might be a little unconventional, but cooks have to improvise in the kitchen, right?
Next, combine the seasonings (cinnamon, ginger, pepper, and salt) in a small bowl. Give the chicken a good nice rub down with the spices and make sure both sides are coated evenly.
In a large skillet, heat 1 1/2 teaspoons of oil over a medium-high heat. Gently add the chicken and reduce the heat to medium. Cook the chicken until a nice golden color forms and is no longer pink in the middle, a good five minutes on each side. Set the chicken aside.
Perfectly seasoned chicken
Add the remaining 1 1/2 teaspoons of oil to the skillet and add the bell pepper, scallions, and the garlic. Sauté these for a minute. Add the sherry-tea mixture and bring to a boil, making sure to scrap up any browned bits of veggies. For four minutes, reduce this liquid by half.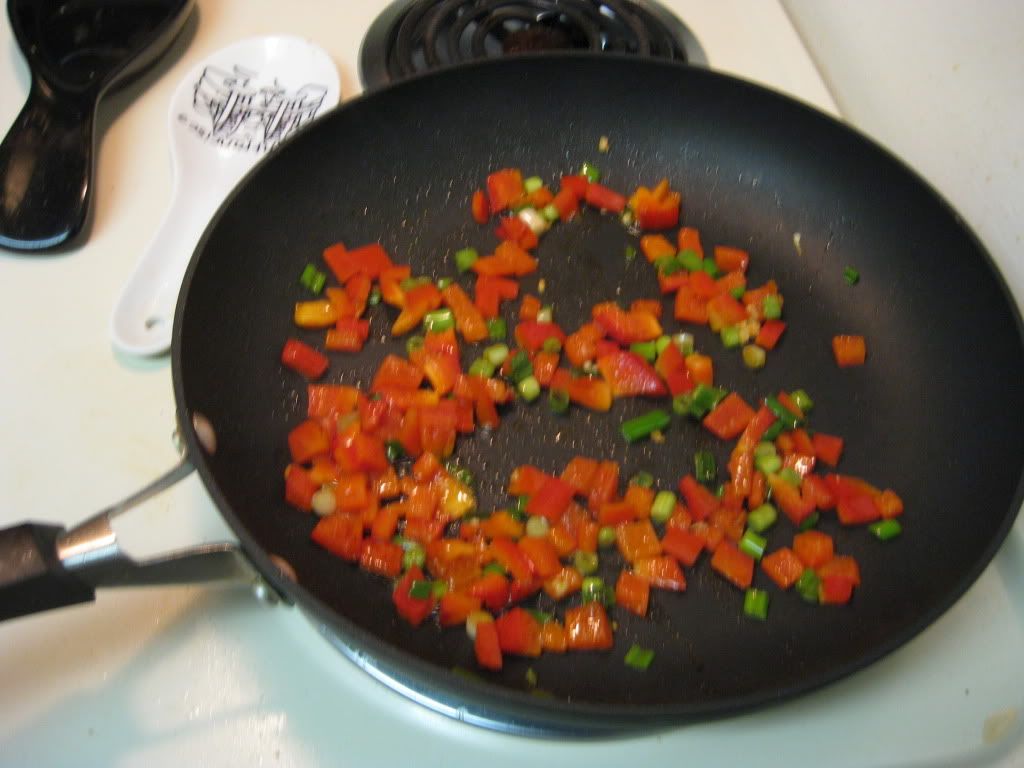 Delicious veggies!
Return the chicken to the skillet and turn the heat to low. Gently spooning the sauce over the chicken, simmer until heated through, which should take about two minutes. Slice the chicken in diagonal portions, spoon the sauce and veggies over, serve, and enjoy!
The End Result: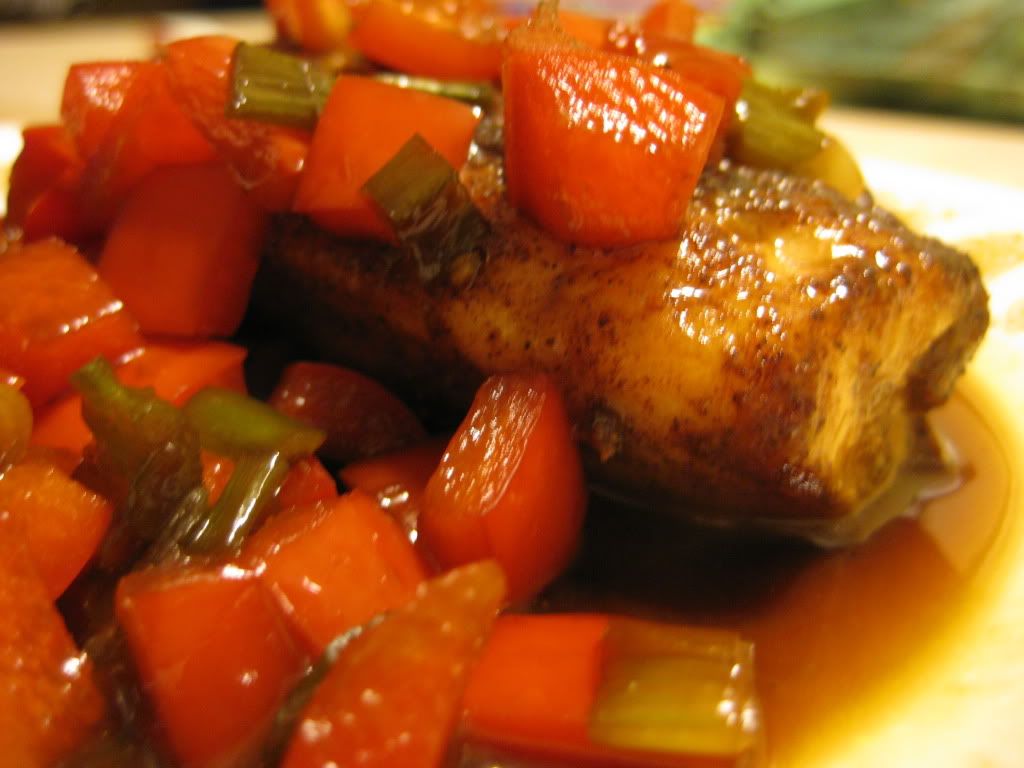 I wasn't expecting the recipe to have such a kick to it, but it most certainly did. It wasn't a kick in a seat kick, but it was a back of the mouth warming sensation. All the flavors were an interesting combination and definitely unique. It had a very Asian inspired taste any sort of fried rice or plain rice would have complemented the dish to a 'T'. Overall, it's something we've never had before and well worth the experience.
That's all we have for you this evening. Check back in on Thursday for my variation on a recipe we did last week. Until then,
~Cheers!