Good evening everyone! As Tyler and mine's food tastes have evolved, Mexican food has led the way in our experimentation. The flavors, spices and ingredients are new and exciting and are typically things we don't normally get to play around with. So, when we see a good Mexican dish, we make a note of it and save it for later. As such, I have a lot Mexican style recipes in the hopper. But obviously, a string of Mexican recipes would bore some of you (and some of you would be extremely excited about it.) Tonight, I try out of those recipes. Would it be el authentico or para nada?
The Recipe: Beef Tostadas
Original Recipe Found In: Food Network Magazine, April 2011 issue
What You'll Need:
2 Tablespoons Vegetable Oil
1/2 Small Red Onion, Chopped
2 Cloves Garlic, Minced
3/4 Pound Ground Beef
2 Tablespoons Tomato Paste
1 Tablespoon Chili Powder
1 15 Ounce Can Refried Beans
1/3 Cup Sour Cream
8 Corn Tostadas
1 1/2 Cups Shredded Monterey Jack Cheese
Shredded Lettuce, Hot Sauce, and/or cilantro, for topping
Begin by heating the vegetable oil in a large skillet over medium-high heat. Next, add the onion and cook until it softens, but before it browns, this should take about five minutes. Add the garlic and cook for one minute until fragrant. Add the beef and 1/2 teaspoon of salt into the skillet and break up the meat and cook until browned, which takes about three to six minutes. Finally, add the tomato paste and chili powder, stirring, and cook for about two more minutes.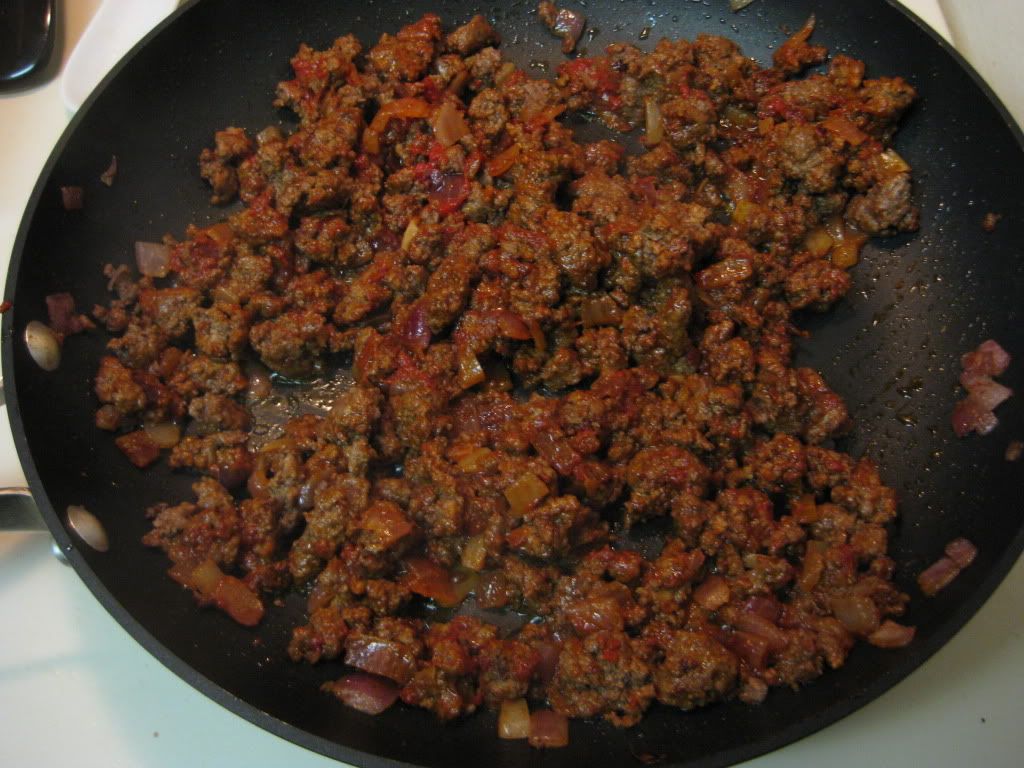 Skillet of deliciousness
Meanwhile, in a small saucepan, heat the refried beans (which have to be the most visually grotesque party of any mexican dish. Luckily they taste decent!) Moisten the sour cream with two tablespoons of water and stir it until it becomes thin.
Spread the beans on the tostadas (which are essentially flat, hard taco shells; you can find them in the Mexican aisle in your local grocery store.) Then top with beef and cheese. If so desired, add the sour cream, hot sauce, lettuce and/or cilantro.
The End Result: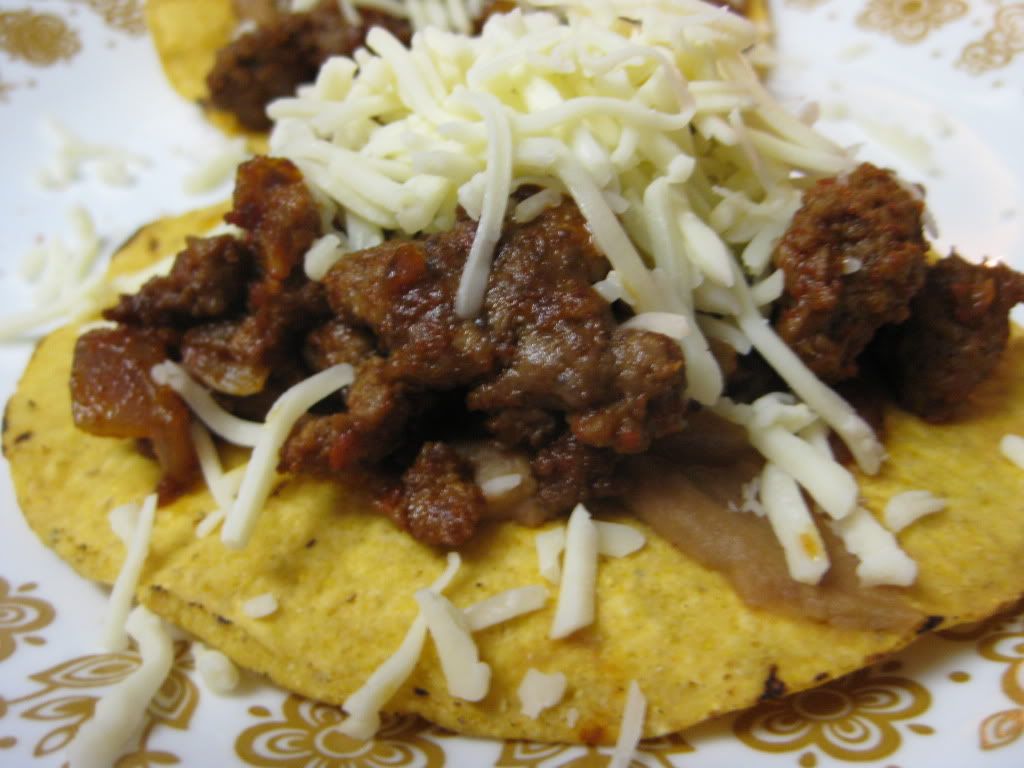 An incredible flavor combination!! Most people complain about Mexican food being too spicy. But this recipe was definitely not (if you're like me, the hot sauce can be almost too hot, that's why it's optional.) But the flavor in the meat was wonderful and the beans almost didn't add another flavor, but then enhanced the quality of the tostada. Topped with monterrey jack cheese and sour cream made it a complete dish. Tyler and I both raved as we scarved down our tostadas. This recipe is not only repeat worthy, but cookbook worthy (if we decide to do another cookbook -
(Tyler's Note: which doesn't look too promising due to the total lack of sales of our original...if you've been meaning to buy it but haven't yet - what are you waiting for? You could be the first, (sadly) to own your very own copy of our cookbook. Follow the link on the upper right hand side of the blog to get your own copy!)
That's all we have for you this evening. Thanks for sharing another week of recipes and stories with us here at Out Of The Culinary. Check back Monday for another edition of Around the Culinary World. Until then, enjoy your weekend (happy Easter) and,
~Cheers