Good evening everyone! It's been a little while since we've gone bold with a recipe on the blog. Sometimes, as a chef (amateur or otherwise) it's just easier to fall into recipes that you know you'll enjoy and that you're sure will turn out every time. Over the past few weeks, Maggie and I have been playing it pretty safe. Not to say that we were being lazy, but we certainly were not branching out and being adventurous. The only real 'gamble' we took was last week's fajita burger, which ended in split reviews, but even that recipe was far from being bold.
Tonight, I'm getting a little more bold by branching into a little exotic cuisine. Tonight's recipe, arroz con pollo (that's chicken with rice for those who failed Spanish) is an adaptation on a traditional Mexican dish. While the ingredients are fairly standard (frozen veggies, brown rice, tomato sauce) I'm not sure how well they will combine, or how well Maggie and I will like the final result. The only way you learn is to try right? With that thought in mind, I dove into tonight's dish.
The Recipe: Arroz Con Pollo
Original Recipe Found On: Eatingwell.com
What You'll Need:
2 1/2 Pounds Bone-In Chicken Thighs (Or Drumsticks) Skin Removed, Fat Trimmed
1/2 Teaspoon Salt
2 Tablespoons Canola Oil
1 Large Onion (Chopped)
4 Cloves Garlic (Minced)
1/2 Cup Tomato Sauce
1 1/4 Cups Low Sodium Chicken Broth
1 Cup Instant Brown Rice
1 Cup Frozen Vegetable Medley (Thawed slightly)
Begin by seasoning both sides of your chicken pieces with 1/4 teaspoon salt. Next, add the canola oil to a dutch oven and bring to a shimmer of medium-high heat. Once the oil is shimmering, add the chicken pieces and cook until lightly browned, about 4 to 8 minutes.
Normally, we like to cook chicken in the dutch oven with the skin still on, this keeps the natural juices within the meat while the chicken is cooking. However, with tonight's recipe we're going to be infusing both chicken broth and tomato sauce into the chicken in later stages, so losing a little of the natural juices is okay in this case. In addition, pulling the skin and fat from the chicken at the beginning creates a much healthier dish when it's all said and done.
Once all of your chicken pieces are browned, transfer them to a plate and set aside. Next, add your onion, garlic and tomato sauce into the dutch oven (don't wipe it out after cooking the chicken, utilize the natural flavors left behind in the browning process to enhance the dish - you can drain the excess oil if you feel too much has been left behind, however). Cook the mixture on medium heat for about 1 minute. Next, add the chicken broth to the mixture. Stir until everything is combined. Increase the heat to medium high and add the remaining 1/4 teaspoon of salt. Bring the sauce to a boil.
Once the sauce is boiling, add your brown rice, stirring to make sure it is evenly incorporated. Next, return your chicken to the pot and nestle amongst the rice. Cover the dutch oven and allow to simmer until the chicken reaches 165 degrees on an instant read thermometer. This typically takes about 10 to 15 minutes. Once your chicken has reached the 'safe to eat zone' add the (not so) frozen vegetables and allow them to cook until heated through. The original recipe claims this takes 2 minutes, I've found that 5 is a more accurate number.
Once the vegetables are done, you are ready to serve the chicken on top of the rice and enjoy!
The Results: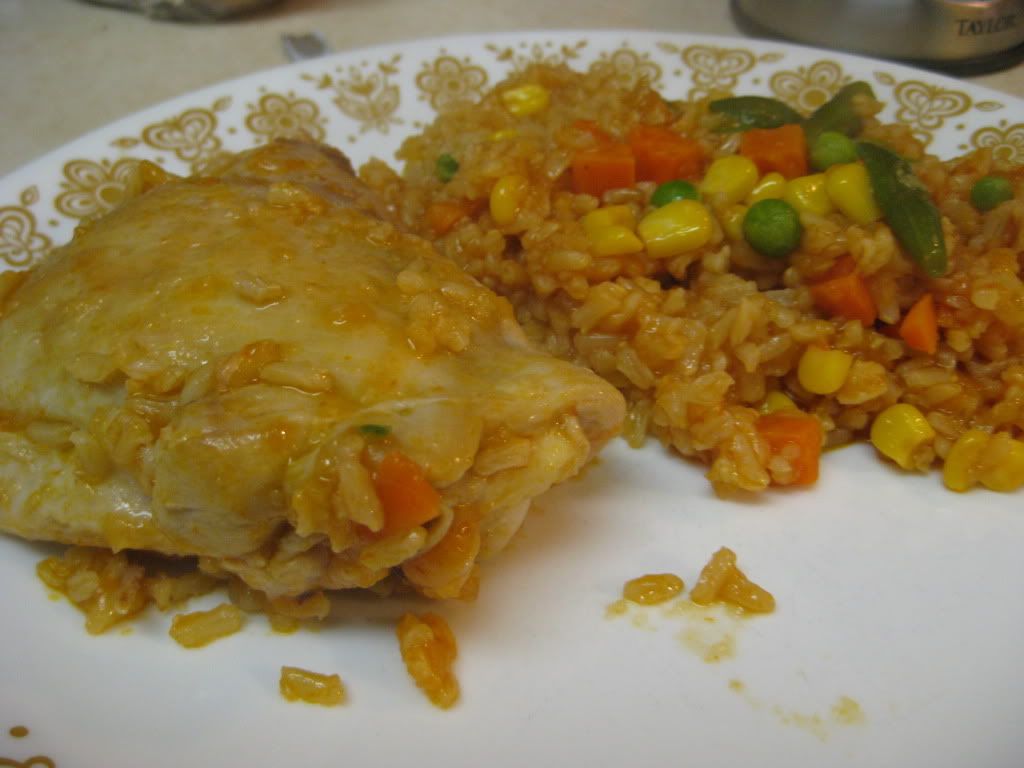 I was surprised with the flavor of this dish. I honestly thought the end result would be something more resembling Italian cooking, given the grain + tomato sauce combination. In reality, the flavor was decidedly spanish, with the tomato sauce, veggies and rice all creating a great 'spanish style rice' (as seen on restaurant menus) flavor. The chicken was delicious and juicy and (as expected) full of tomato based flavor. With relatively low difficulty and a great, out of the ordinary flavor, this recipe is certainly worth a shot for those of you cooking along at home.
That's all we have for you this evening. As always, thank you for stopping by and sharing in our hobby for another week. We're back on Monday with another edition of Around The Culinary World, where we'll share all the news that's fit to blog about. Stop back in on Monday for that feature, until then,
~Cheers