Good evening everyone! As our sweltering temperatures begin to come to a simmer, most of us want a meal that is relatively cool to eat and won't have a kick of heat to it. It's hot enough outside, you don't need any extra heat on the menu.Tonight, I'm going to do the complete opposite of this traditional train of thought.
Most (or some) of you aren't aware of my incredible thirst of Mexican food. Although I cant handle the spicyness of some dishes, I can handle the majority of Mexican food. One of my favorite places to eat is Chipotle. It may or not be authentic Mexican food (depending on who you're talking to,) but their burritos are something to behold. Over stuffed burritos, filled to the brim with meat, cheese, rice, and any sort of Mexican condiments. Unfortunately, the burritos pack quite a calorie punch, with between 700 to over a 1000 calories a burrito, you feel stuffed to the gills. Tonight, I'm going to try to replicate that same burrito taste, without all the calories stuffed inside.
The Recipe: Grilled Steak Burritos
Original Recipe Found In:www.eatingwell.com
What You'll Need:
(4 Servings)
1/4 Cup Prepared Fresh Salsa
1/4 Cup Water
3 Tablespoons Instant Brown Rice
3/4 Cup Canned Black Beans, rinsed (we are choosing a beanless version for our burritos)
6 Ounces Strip Steak, trimmed and thinly sliced crosswise
1/8 Teaspoon Freshly Ground Pepper
1 1/2 Teaspoons Canola Oil
2 8-inch Tortillas, preferably whole-wheat
1/4 Cup Shredded Sharp Cheddar Cheese
2 Tablespoons Prepared Guacamole
1 Tablespoon Chopped Fresh Cilantro (optional as well)
To start, combine the salsa and water in a small saucepan and bring to a boil. Stir in the rice and reduce the heat to a simmer. Cover and cook for five minutes. If you are choosing the use the beans, stir them in the salsa/rice mixture, return to a simmer and cook uncovered. Stir this mixture occasionally until the rice is tender and most of the liquid is absorbed, about five minutes. I would wager that this is a variation of a Spanish rice dish. But, if you're more about white rice, or cilantro rice, or whatever rice floats your burrito boat, you can take that dive and try a twist on this recipe.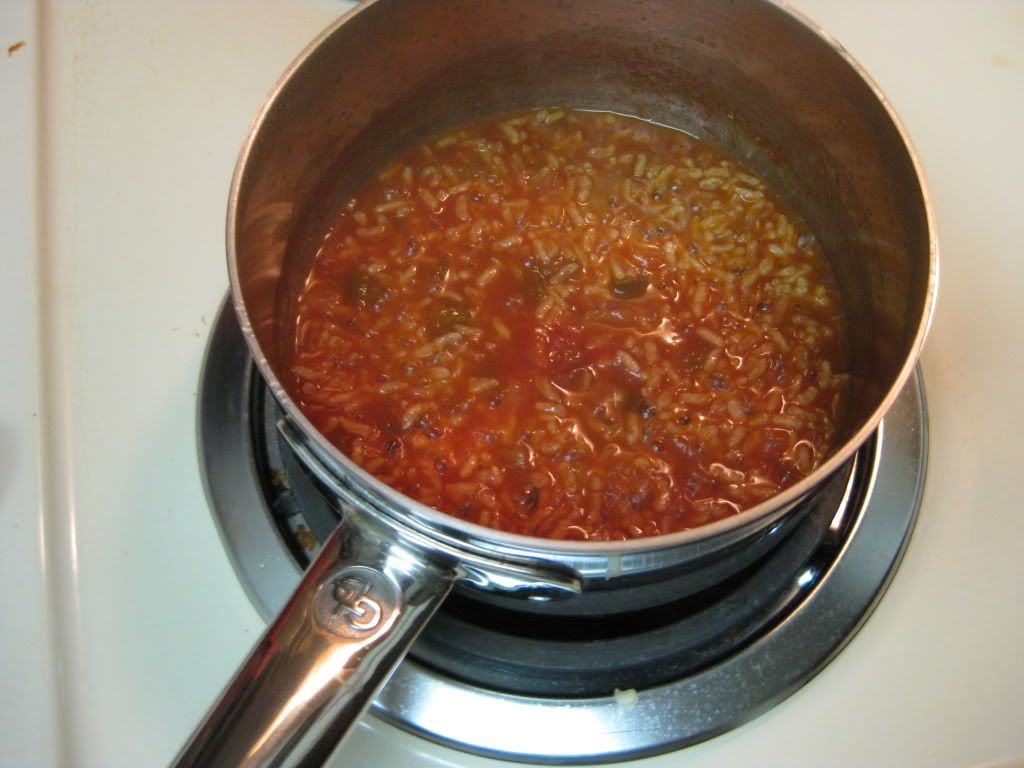 Simmering Spanish Rice
While the rice is cooking, sprinkle the steak with the pepper. Heat the oil in a skillet over medium high heat. Add the steak and cook, stirring occasionally, until browned and cooked through, about three to five minutes.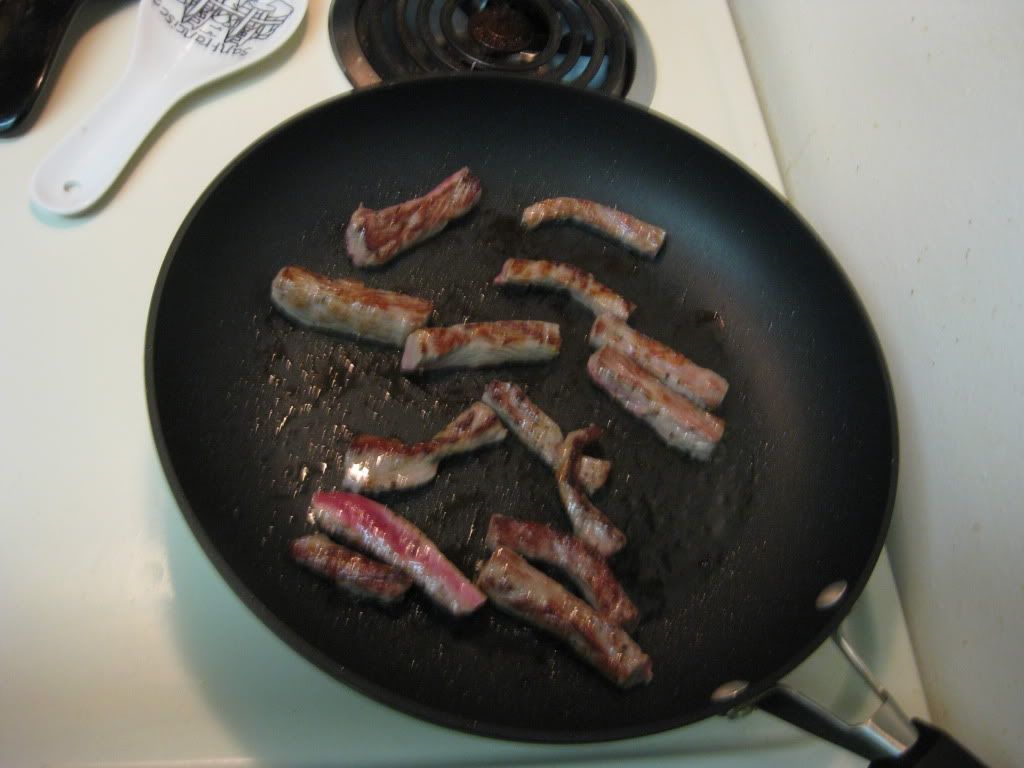 When these little guys are all chopped up, it will boost the flavor through the roof!
To assemble the burritos, divide the cooked steak among the tortillas and top with equal amounts of cheese, guacamole, cilantro, and the rice mixture. Roll each tortilla into a burrito, serve, and enjoy!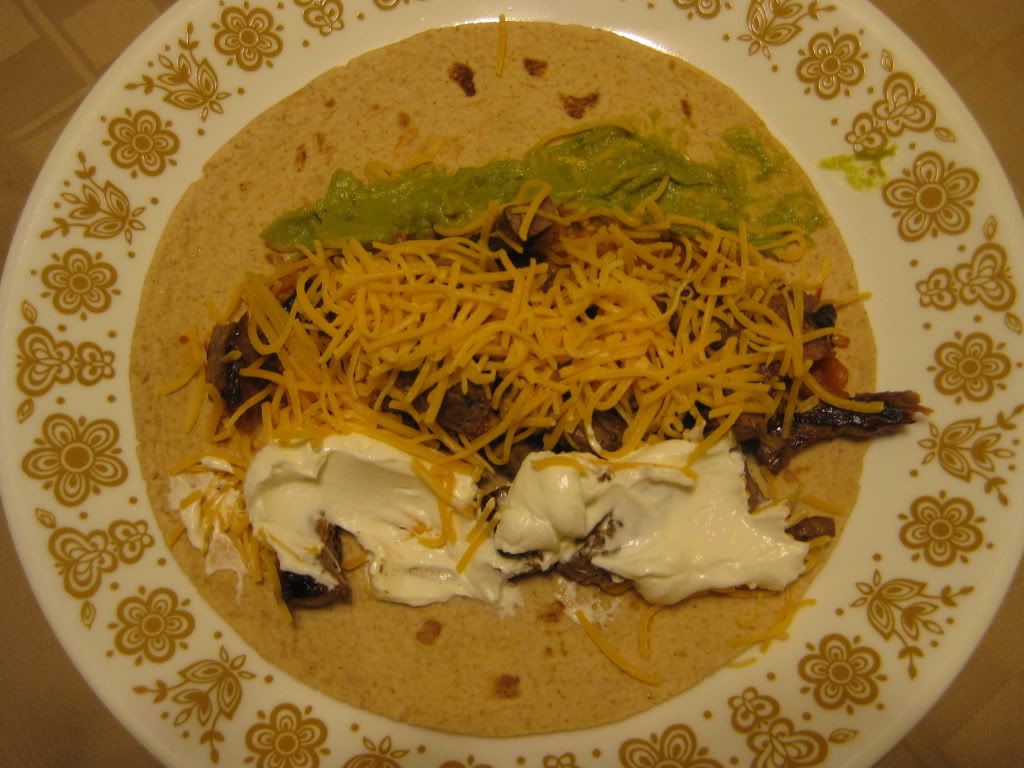 The End Result:
As Tyler was munching on his first bite, he exclaimed: "Better than Chipotle!" and I couldn't agree more. The Spanish rice provided the perfect bed to the steak, which had a little bit of pink, but made it all the more succulent. The cheese, guacamole, (and our addition of sour cream,) worked so well together, it was hard to tell that this was a homemade burrito. And our tummy's are equally satisfied as well - at around 470 calories, this dinner won't be a gut buster. This will definitely make our Repeat Recipe list!
It's been a while since we've had a big recipe on the blog - our summer schedule hasn't allowed us to do such. However, Tyler has Thursday off - and he's shown that given a full day, he'll attack a big recipe, so check back then to see what he's got up his sleeve. Until then,
~Cheers!