Good evening everyone! As we try to convey here on the blog, sometimes, the simplest ingredients produce delicious results. With little to no effort, these simple menu items can be transformed into something amazing. Tonight, is no exception: with readily available kitchen items, you can create one fantastic dish that can made for any night of the week. Question is: can too much of a simple ingredient be a bad thing?
The Recipe: Chicken with Lemon-Garlic Sauce
Original Recipe Found In: Williams-Sonoma Cooking at Home
What You'll Need:
2 Tablespoons All-Purpose Flour
4 Boneless, Skinless Chicken Breasts
3-5 Garlic Cloves
1/3 Cup Chopped Flat-Leaf Parsley
1 Tablespoon Lemon Zest, finely chopped
2 Tablespoons Olive Oil
3/4 Cup Chicken Broth
1/2 Cup Fresh Lemon Juice
1/2 Cup White Wine
To start, lightly coat the sides of the chicken on a plate covered with flour. Next, finely chop two or three garlic cloves and mince an additional two cloves. In a small, stir the minced garlic, parsley, and lemon zest. Over high heat, heat the oil in a medium sized skillet. Add the chicken to the pan and cook until lightly browned, about two minutes on both sides. Transfer to a plate, season with salt and pepper, and set aside.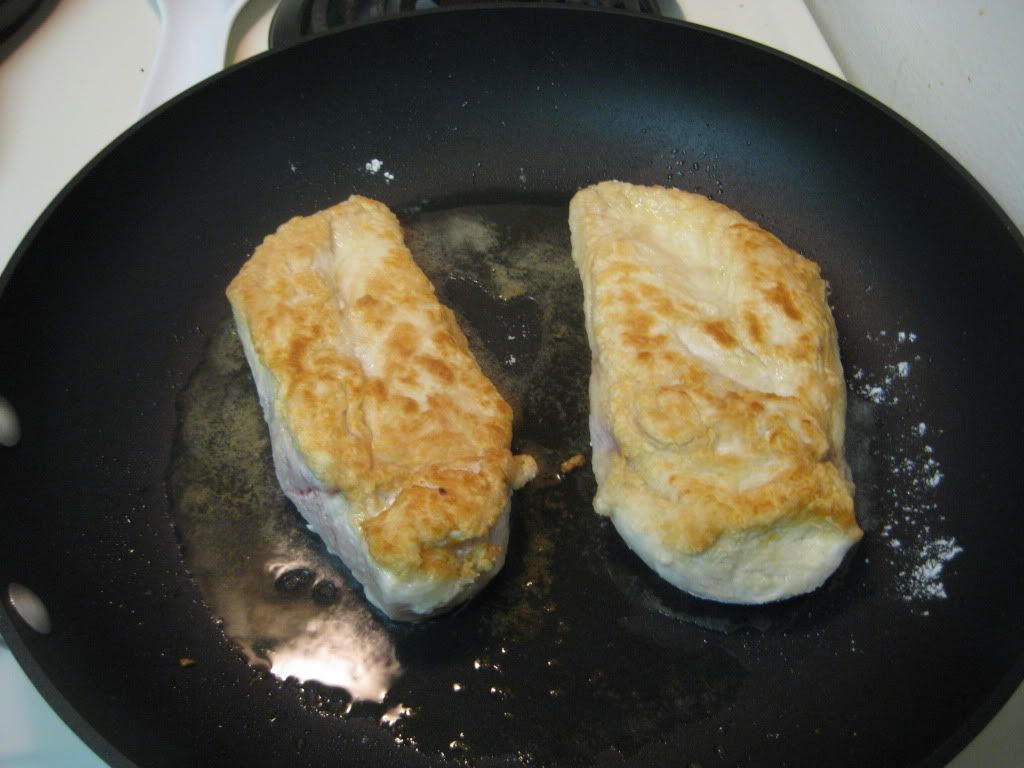 Chicken browning nicely
Once the chicken is done cooking, there should be enough fat to start the pan sauce. Add the finely chopped garlic to the pan and sauté over high heat until softened, about 20 to 30 seconds. Add the broth, lemon juice, and white wine. Bring to a boil and deglaze the pan, stirring to release any brown bits. Boil until slightly reduced, about three minutes.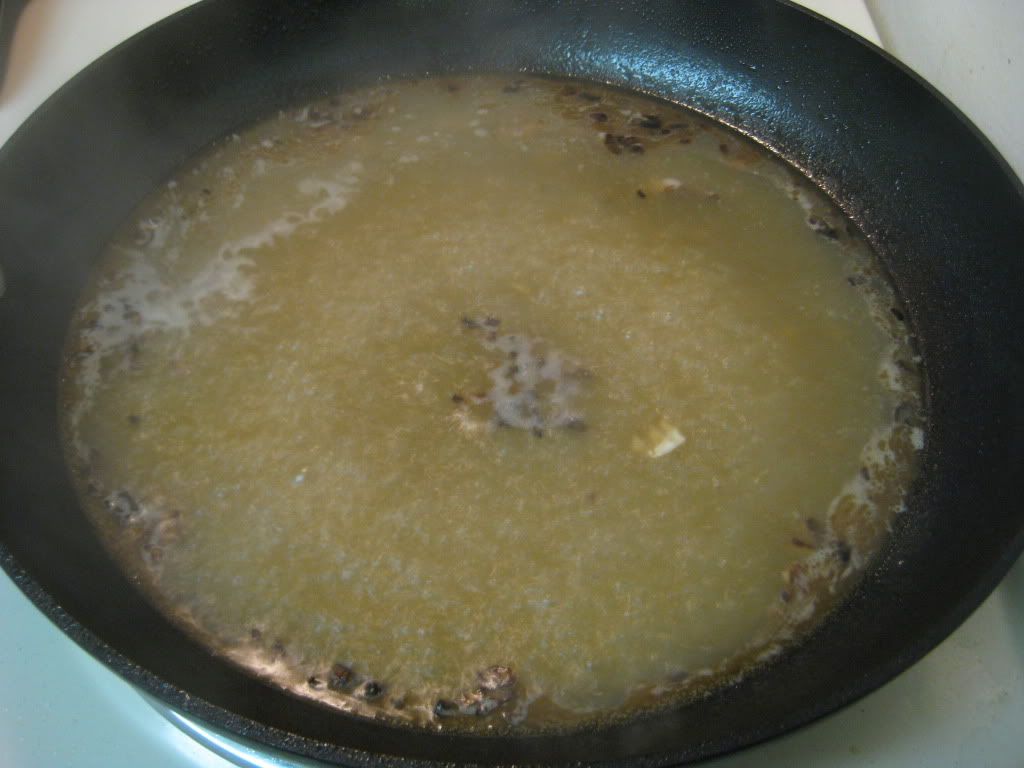 Mmmm...pan sauce...
Return the chicken to the pan and reduce the heat to medium. Cook until the chicken is opaque throughout, about ten minutes. Raise the heat in the skillet back up to high and boil the pan sauce until reduced to about 1/4 cup, this should take about five minutes. Pour evenly over the chicken and sprinkle and parsley garlic mixture evenly over the top. Serve and enjoy!
The End Result: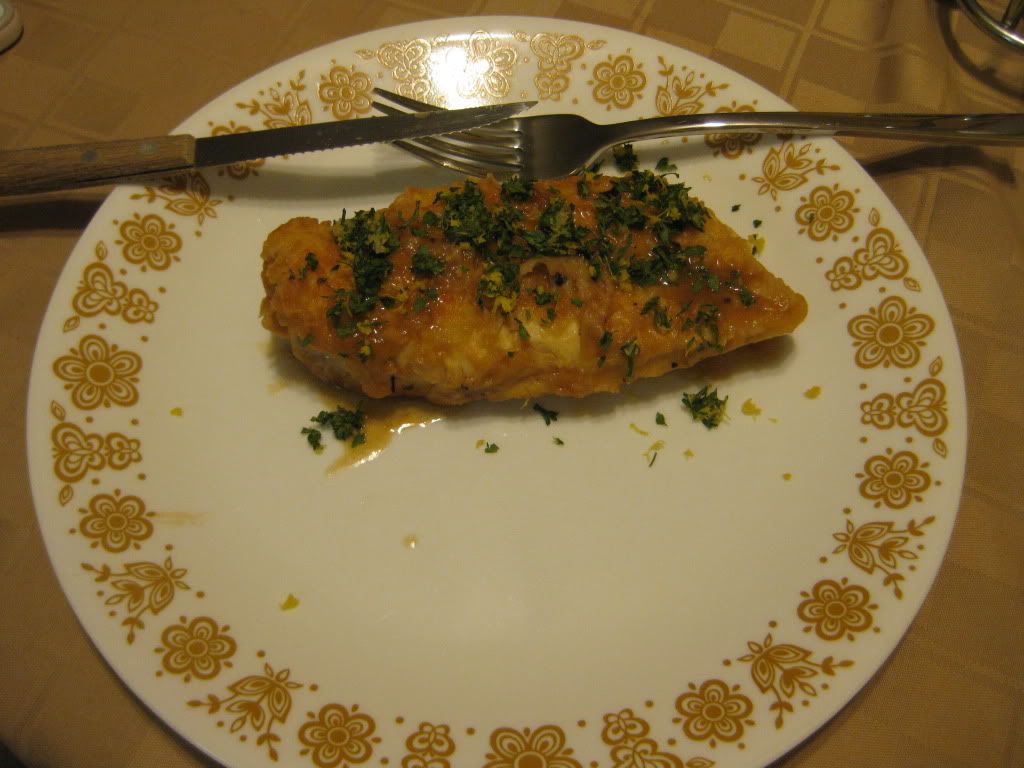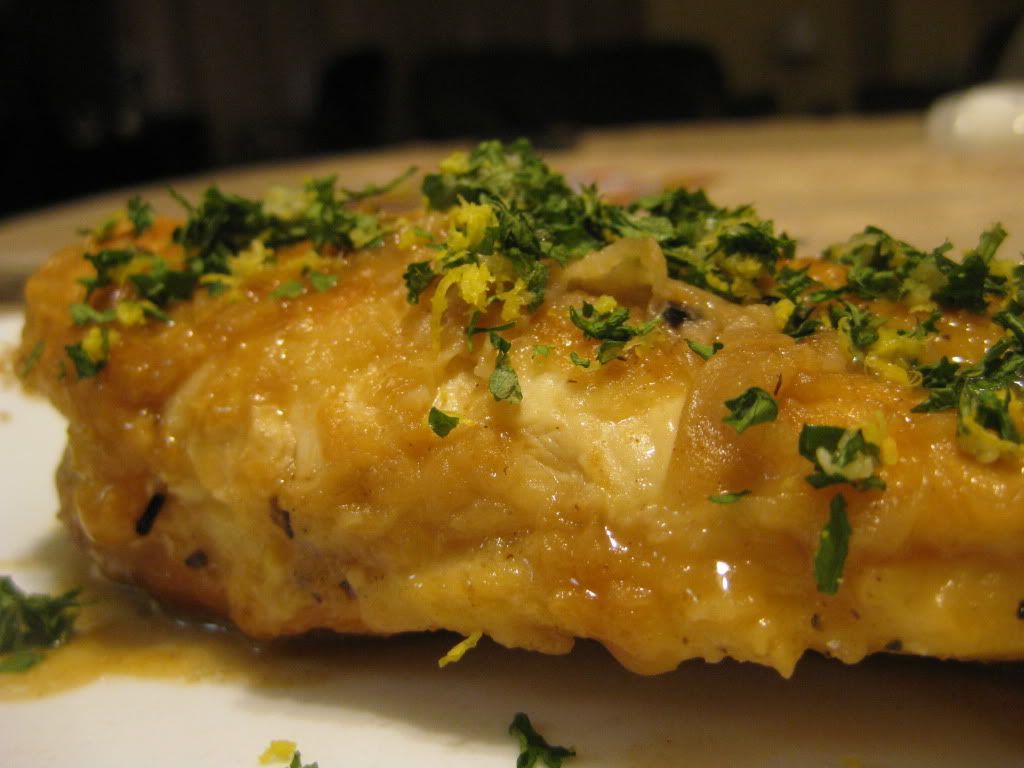 The chicken was cooked to perfection (no smoke blanketing the apartment tonight!) The flour coating gave it a good, solid base to soak up any flavors from the dish. The pan sauce was, in a word, tart...very tart. The lemon was almost too much for this dish and gave it an eye popping zing. Even Tyler, who loves anything lemon, said it was very tart, even for his liking. The parsley garlic topping was a wee much as well - I ended up scrapping it off because the flavors were too overpowering. But overall, this dish had good promise and was perfectly cooked the way it was. It was just the flavors that made it overpowering.
I'd recommend cutting the lemon juice in about half for the pan sauce and maybe even reducing the amount of zest used in the recipe. It's got great lemon flavor - just a little too much lemon flavor. It's a solid base for a recipe and with a few tweaks, you can make it into one fantastic dish!
Check back with us on Thursday when Tyler takes to the kitchen, with another chicken recipe - but this one uses a new cooking technique and includes a very interesting way to cook a delicious side dish. Until then,
~Cheers