Good evening everyone! After a sligthly longer than usual hiatus from blogging (thanks in part to us traveling back home to attend the wedding of a good friend of ours from high school) we've returned to the cooking world! Maggie is getting us started this week after a lot of 'learning experiences' from last week's recipe. I'll turn the keyboard over to Maggie and let her jump right in!
Hello again everyone! After last week's forray into the smoking chicken (and our apartment smelling like smoke,) its time to dust myself off and try again. I'm dabbling into fish and I find myself a tad nervous, per usual. Fish is a very finicky item to cook, especially if you're not used to it. Tyler has used it enough that he's mastered the ins and outs of the little buggers - I haven't had the fortune of as much experience. Tonight incorporates a new method of cooking that I haven't used before too! Hopefully it will result in something rather tasty!
The Recipe: Pepper and Garlic Panko Crusted Salmon
Original Recipe Found In: www.princesshouse.com (They have excellent kitchen items for sale)
What You'll Need:
⅔ Cup Panko (Japanese dried bread crumbs)
2 Tablesppoons Fresh Parsley, minced
1 Teaspoon Garlic, Pepper, Salt Seasoning Blend
3 Tablespoons Grapeseed Oil, divided
4 (6-8 oz.) Salmon Fillets, skin on
2 Tablespoons Dijon Mustard
1 Lemon, cut into wedges
To start, preheat an oven to 425 degrees. Meanwhile, mix together, in a small bowl, the panko, parsley, and seasoning blend. Drizzle this combination with the oil until the crumbs are evenly coated. Since I did get this recipe out of a catalog that sells kitchen utensils and one of the ingredients of the recipe is the seasoning blend (customized for the catalog), I thought it might be hard to adapt. But, you can use equal parts of garlic powder, pepper, and salt and create a seasoning blend with that - it might not be the same thing but at the very least you can come close. Once again, creativity strikes in the kitchen!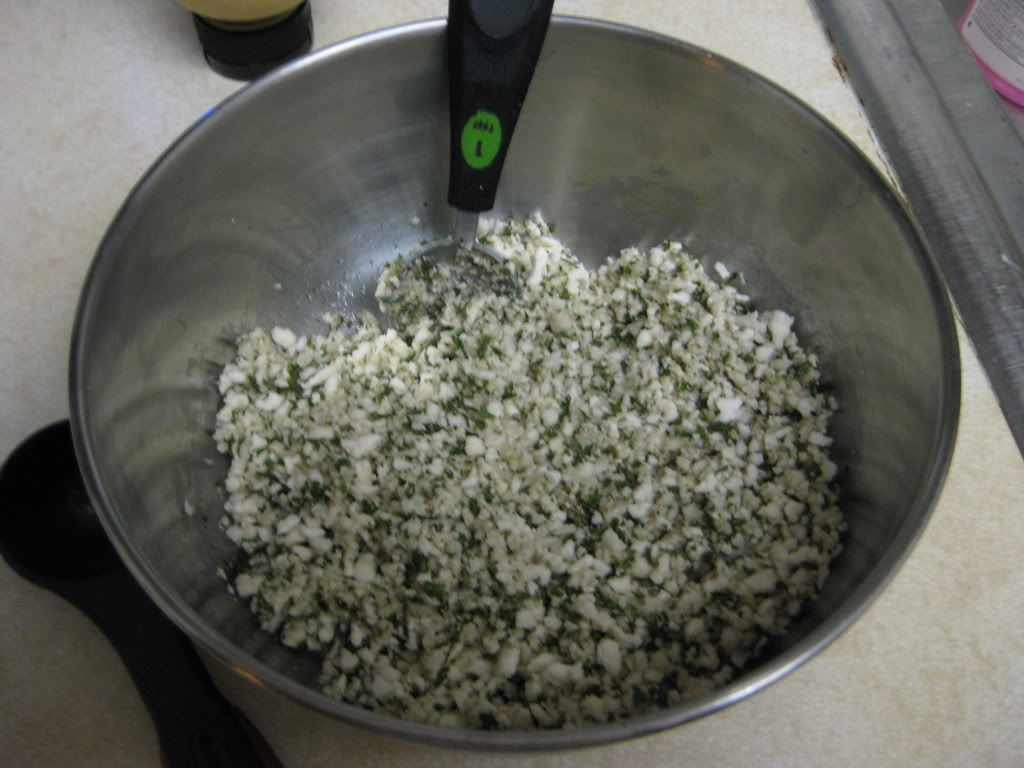 Panko, parsley, and seasoning blend, ready to roll!
Place the salmon fillets skin side down and generously top with mustard. Press the panko mixture thickly on top of the mustard covered salmon fillet.
Smothered in mustard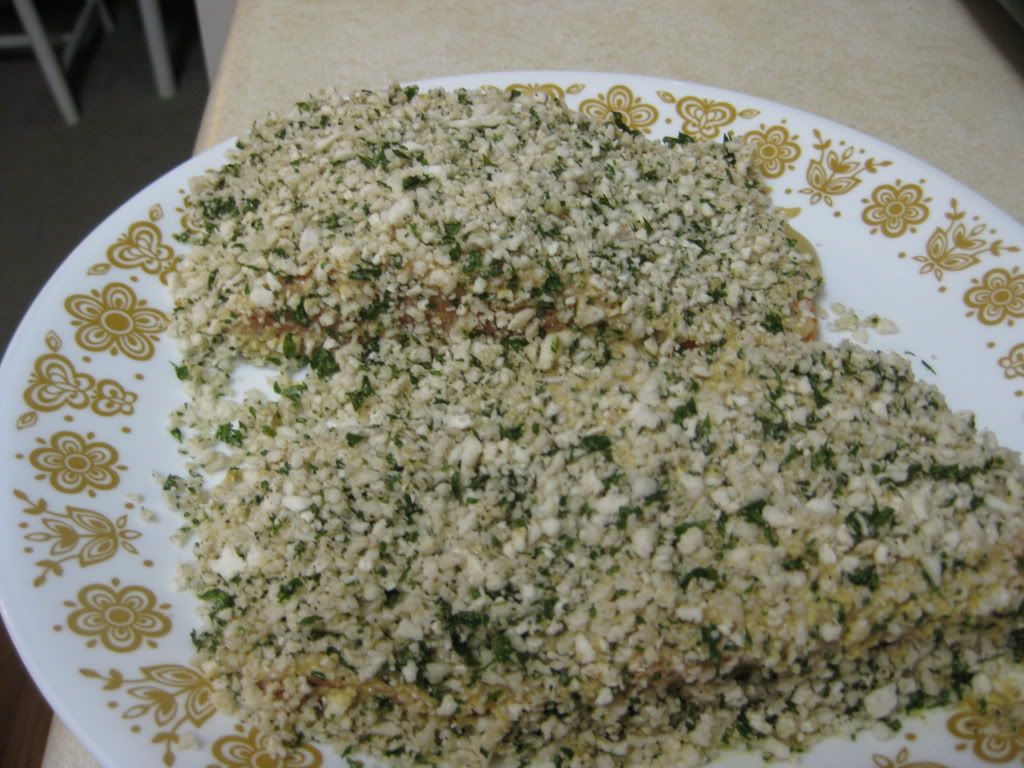 Ready to sear and bake!
Heat one tablespoon of oil over medium high heat in a oven-safe skillet or Dutch oven. When the oil is shimmering, add the salmon fillets skin side down. Sear for three to four minutes, without turning, to brown the skin. Transfer the pan to the oven and cook for five to seven minutes, until the salmon is almost cooked and the panko is browned.
Remove from the oven, cover with a lid and allow to rest for five to ten minutes. I have never seen this method used before in cooking. I know that fish doesn't take that long to cook, but I think covering it will allow the heat from the pan to circulate in the covered dish. Thus cooking it more and giving it a better flavor - almost like it was roasted. After ten minutes, serve the salmon with lemon wedges, and enjoy!
The End Result: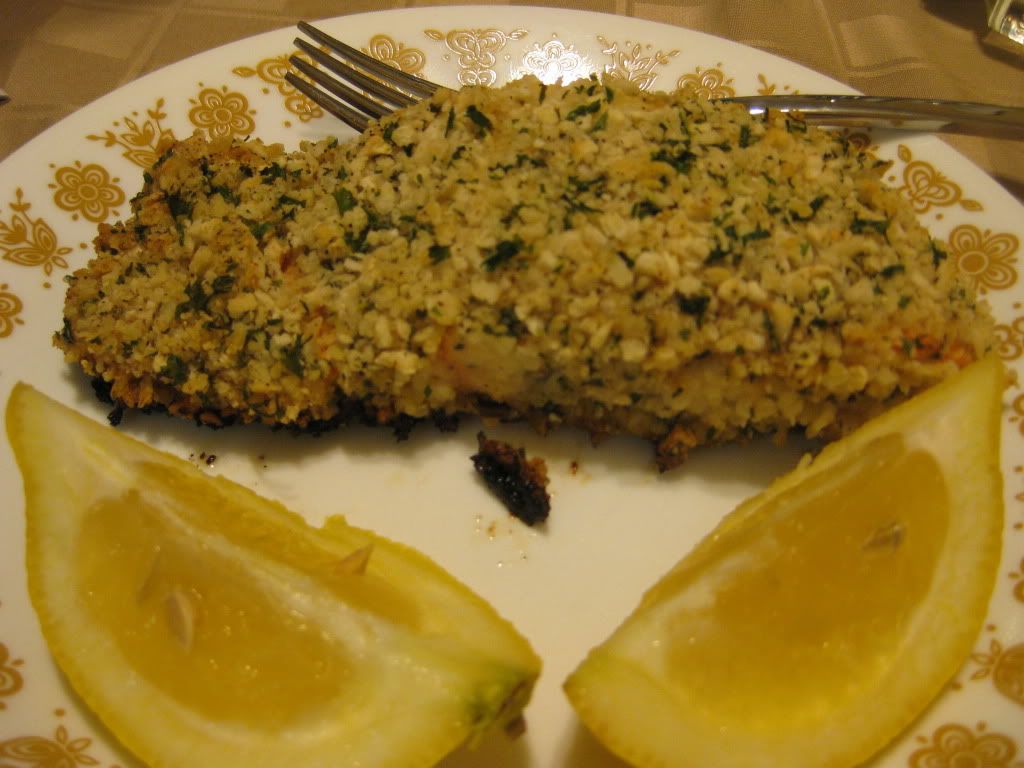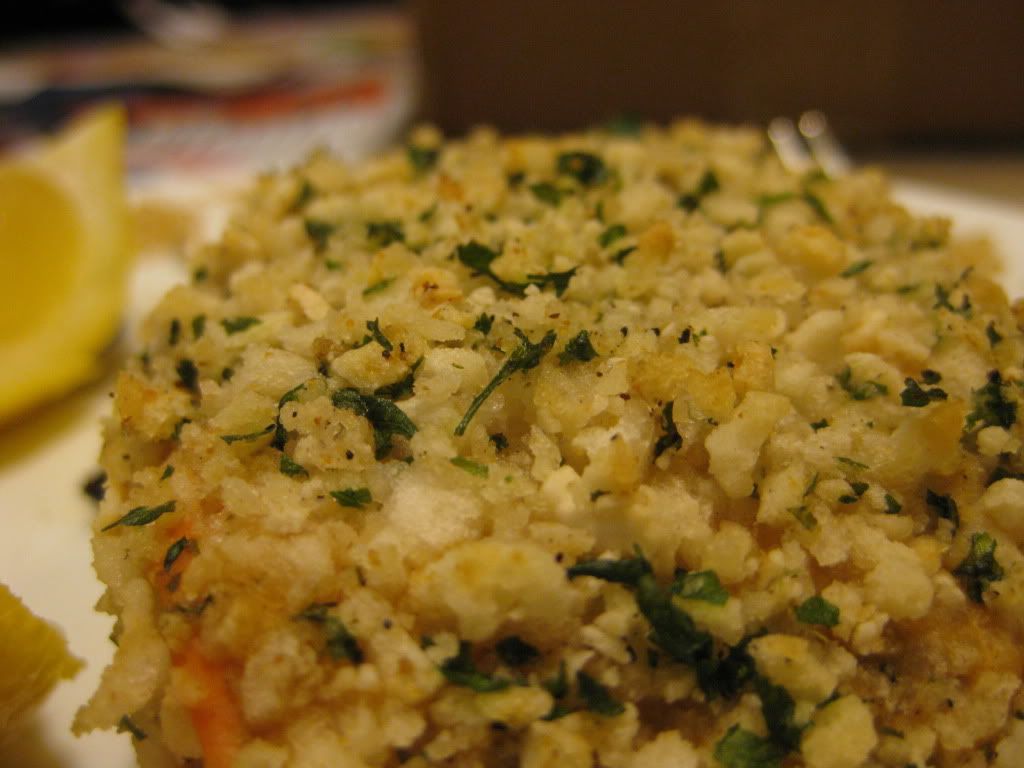 Oh my goodness! Even if you aren't a fish fan, or salmon for that matter, this dish will definitely change your mind. The breading is quite fantastic - the panko adds a nice crunch and the parsley and the seasoning blend creates a flavorful burst. The mustard base gives the salmon an extra oomph. The unique way of cooking made the salmon really moist and cooked out almost all the fishy flavor. The slow cook method at the end prevented the fish from 'oozing' like salmon is prone to do as well. Overall, one great dish that I can add to my fish recipe repertoire.
Join us as Tyler takes to the kitchen on Thursday with a classic dish with French inspirations. Until then,
~Cheers!