Good evening everyone! With cooking, I'm always intrigued with new flavors. I think of different pairings and wonder if they would go together. There's a great book that does exactly this: The Flavor Bible (insert link). It's lists every type of food imaginable and links it with the range of foods it works with, from okay to best pairings. It's also interesting to see what flavors work with which foods, because some of them can be completely surprising. Tonight, I'm going to try one of these unique pairings - hopefully, it will turn out to be a culinary surprise!
The Recipe: Apple-Honey Drumsticks
Original Recipe Found In: Food Network Magazine, September 2011
What You'll Need:
(Serves 6)
12 Skin-On Chicken Drumsticks (we are altering it, since it is the two of us and we're using 4 skin-on chicken thighs)
2 Cups Apple Juice
1/2 Cup Apple Cider Vinegar
1/4 Cup Low Sodium Soy Sauce
2 Teaspoons Honey
Grated Zest of 1 Lemon
1/8 to 1/4 Teaspoon Red Pepper Flakes
2 Teaspoons Sesame Seeds (optional)
1 Tablespoon Unsalted Butter
To start, salt and pepper the drumsticks/thighs generously on both sides. Place the chicken on a rimmed baking sheet with a wire rack. Preheat the oven to 450 degrees. Bake the chicken on one side for thirty minutes; flip the chicken over and continue cooking for thirty more minutes until the chicken is golden and crisp. Don't be alarmed if it smells a bit weird or makes a strange noise. Since the chicken is cooking without a covering, the chicken fat will begin to drip onto the baking sheet and produce either a smell or sound (or neither, if you're really talented. I.E. lucky) It's all part of the cooking process and you shouldn't be too concerned about it (unless there's black smoke rolling out of the oven, THEN you have a problem.) However, the oven is right at the 'optimum' temperature for chicken fat's smoke point - so you are fairly likely to get a lot of smoke (depending on the fat level of the chicken) - unfortunately, we were using a fattier piece of chicken thigh which meant a lot more smoke in the oven.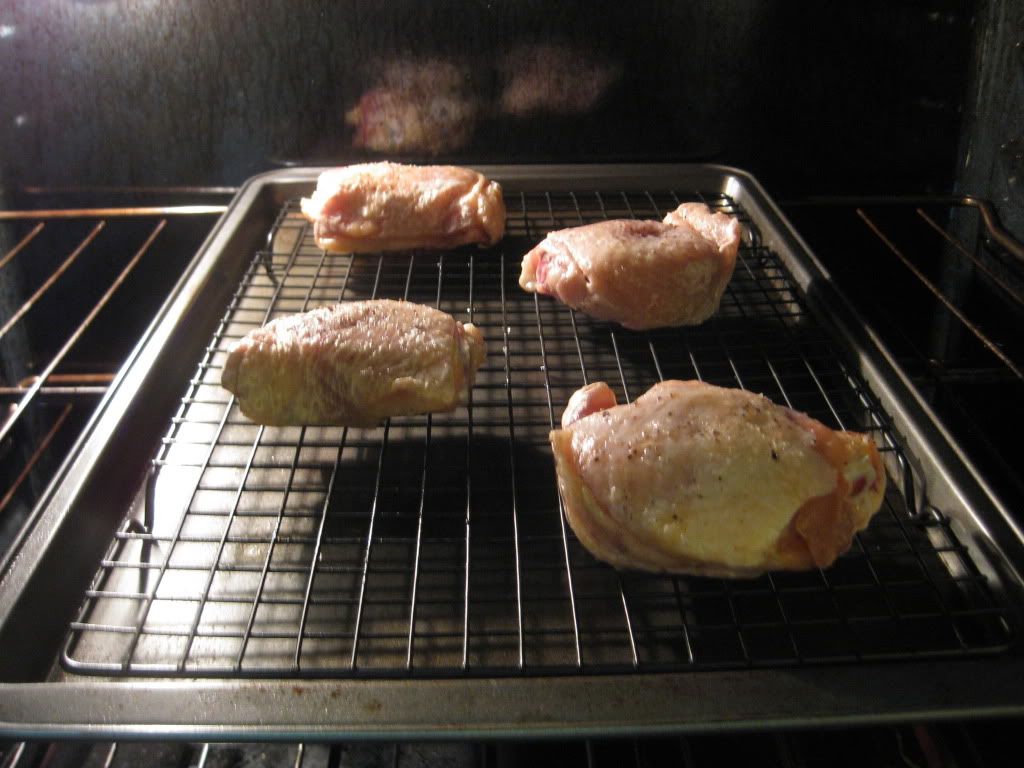 Chicken, pre-fully cooked and pre-smoking rolling out of the oven
Meanwhile, proceed to make the sauce. In a large skillet, bring the apple juice, vinegar, soy sauce, honey, lemon zest, red pepper flakes, and a pinch of salt to a boil over medium high heat. Reduce the heat to medium low and simmer, until the sauce is syrupy and coats the back of a spoon, between 20 to 25 minutes. Add the sesame seeds into the warmed sauce.
After the chicken is done cooking, transfer to a large bowl. Add the sauce and butter and toss to coat. Season with salt and pepper. Transfer the chicken to plates, drizzle remaining sauce over the chicken, serve, and enjoy!
The End Result: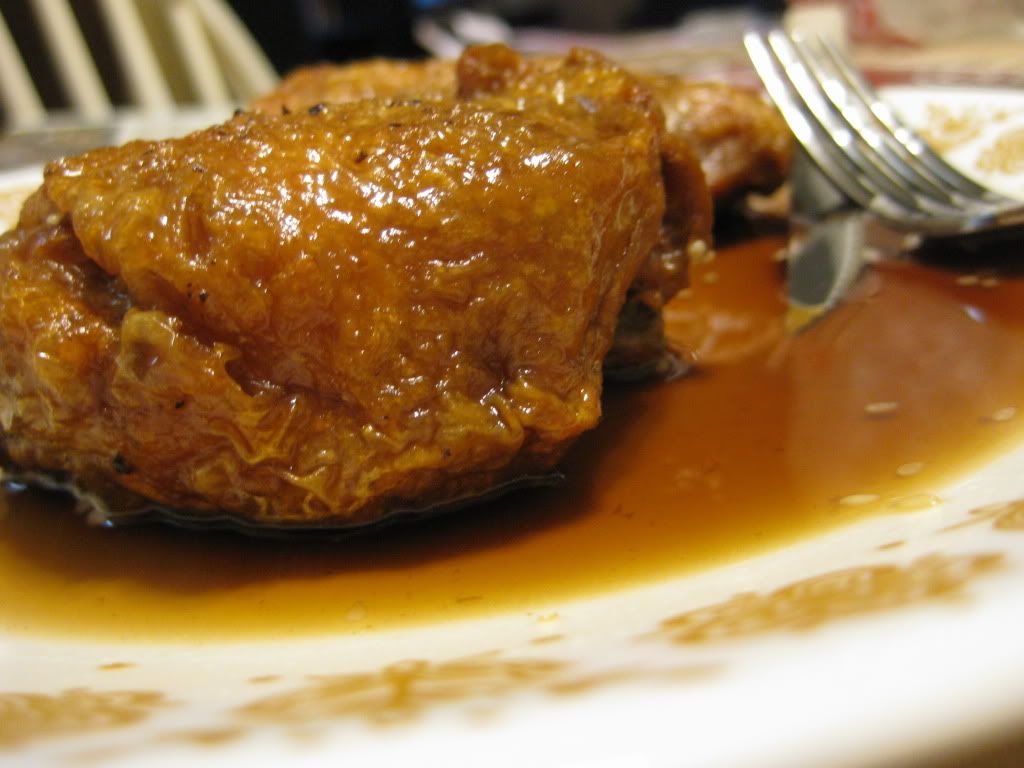 Despite the endless amounts of smoke coming out of the oven and filling our apartment, the flavor was quite good. The chicken wasn't too crispy, yet had a nice coating on it. The sauce was supposed to be a little thicker, but I kept it covered...oops! The sauce still gave a nice flavor to the chicken and gave it a good dipping quality to it. As I speak, we're still trying to get the smoke out of the apartment. Regardless of that fact, the chicken was quite flavorful and relatively easy to make.
Tomorrow, we will revisit a recipe from last summer. Our work schedule just put a kibosh on trying another new recipe this week - just a little too busy to fit everything in. Stop back tomorrow night for a highlight from the past. Until then,
~Cheers!