Good evening everyone! After last week's busy schedule forced me to bow out of cooking for the week, I'm back tonight and ready to jump back into the kitchen. My dish tonight comes from France - but not in the way you might assume. Dishes like Coq Au Vin and Chicken Cordon Bleu are probably the most common things you think of when some one says 'French cooking' - and for the most part - you'd be correct. My dish tonight, however, comes from the more traditional French cookbook - French country beef stew is France's version of 'leftover stew' or at the very least on of the more common meals cooked for the average French household. Composed of common items that would be found in any pantry - this dish is the ultimate low cost, high yield recipe. Let's get cooking!
The Recipe: French Country Beef Stew
Original Recipe Found On: Eatingwell.com
What You'll Need:
2 Teaspoons Extra Virgin Olive Oil
4 Slices Turkey Bacon (Chopped)
1 1/2 Cups Finely Chopped Onion (Roughly 2 Medium)
1/2 Cup Diced Celery (1 Rib)
1 1/2 Cups Diced Carrots (2 Medium carrots)
3 Cups Reduced Sodium Beef Broth
2 Cups Red Wine
1/2 Teaspoon Dried Thyme
2 Bay Leaves
3 1/2 - 4 Pound Beef Shank or 2 - 3 Pound Stewing Beef (We are using stewing beef)
1/2 Cup Chopped Fresh Parsley
Egg Noodles or Rice To Serve Upon (Optional)
Begin by heating your oil in a large dutch oven until the oil begins to shimmer. (Medium heat) Next, add the chopped slices of bacon and cook until golden brown, roughly 5 to 7 minutes. You may notice in the picture that my bacon slices are rather large. I was using bacon that we had stored in the freezer (from a previous recipe) and so I approached this step slightly differently. I cooked the bacon until it was thawed, then, using kitchen scissors, I chopped up the bacon right in the dutch oven.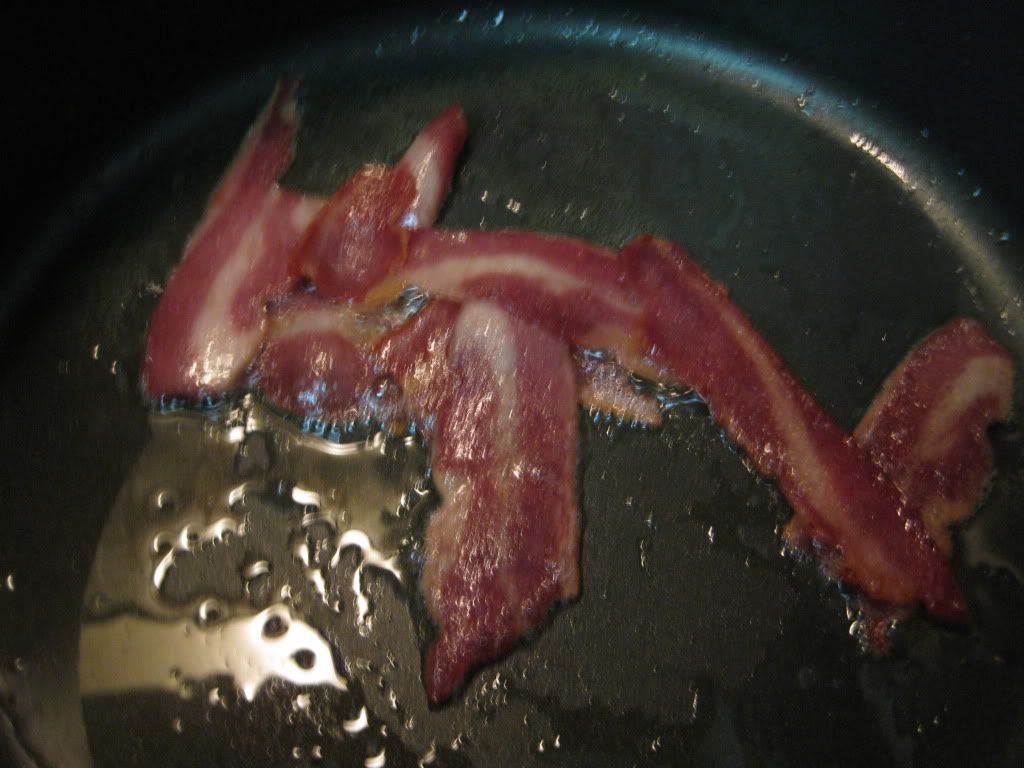 Next, add the onions, carrots and celery and cook (stirring often) until the vegetables soften. This should take about 8 to 10 minutes.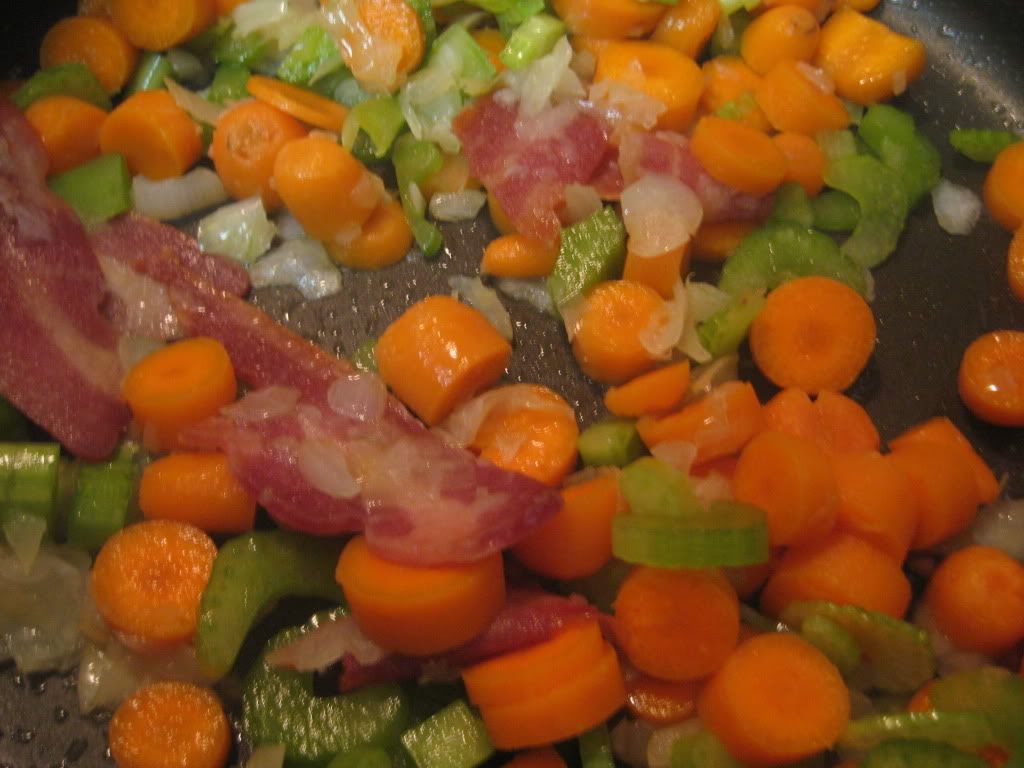 This celery, onion & carrot mixture is known as mirepoix - and if you do a lot of French inspired cooking, chances are you've seen this a lot. Mirepoix is a great base for stews and soups - in fact, even the roast I made two weeks ago used mirepoix as a base at the beginning. Pay attention to the next roast, stew or soup recipe you make - you might be surprised to see that mirepoix is the base of the dish.
Once the vegetables are softened, add the beef broth, red wine, thyme and bay leaves and bring the mixture to a boil.
This beef broth and red wine mixture is another common base for stews and soups. Beef broth and red wine naturally combine to create a rich flavor and the when reduced, both will intensify that flavor. As such, any stew or slow roast recipe you try (that involves beef) will likely use this old time French staple. It's funny to see how some of these classic cooking ideas have endured throughout generations. Mirepoix and beef broth/red wine are as old as French cooking itself, and yet they still routinely show up in many of today's contemporary dishes.
Once the mixture is boiling, place your beef shank or stewed beef pieces (cubed) into a slow cooker. Pour the vegetable mixture over the top of the beef and set the cooker on low. Allow this to cook for about 6 hours before moving on to the next stage.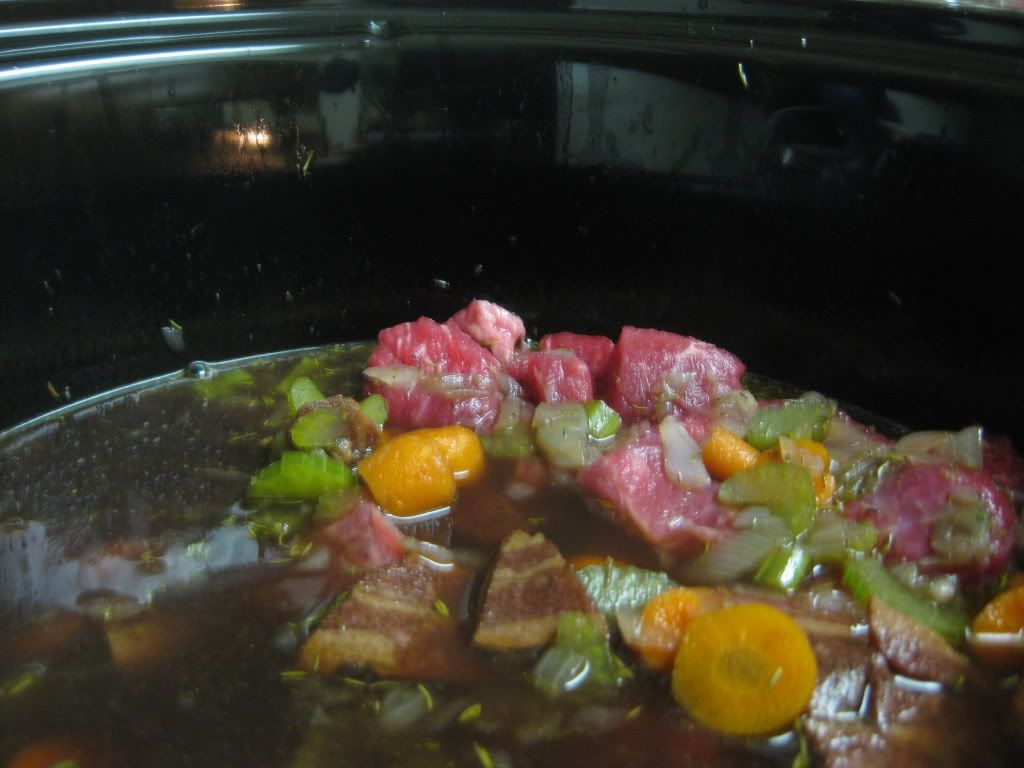 Once the beef has roasted the day away, it's time to reduce this great sauce you've created. Reducing the sauce will do two things. First, it will thicken the mixture by boiling a lot of the excess moisture (read: water) from the sauce. Secondly, it intensifies the flavor of the sauce - because, as we said - you're boiling out the water. (Less water to dilute the natural flavors means more flavor!)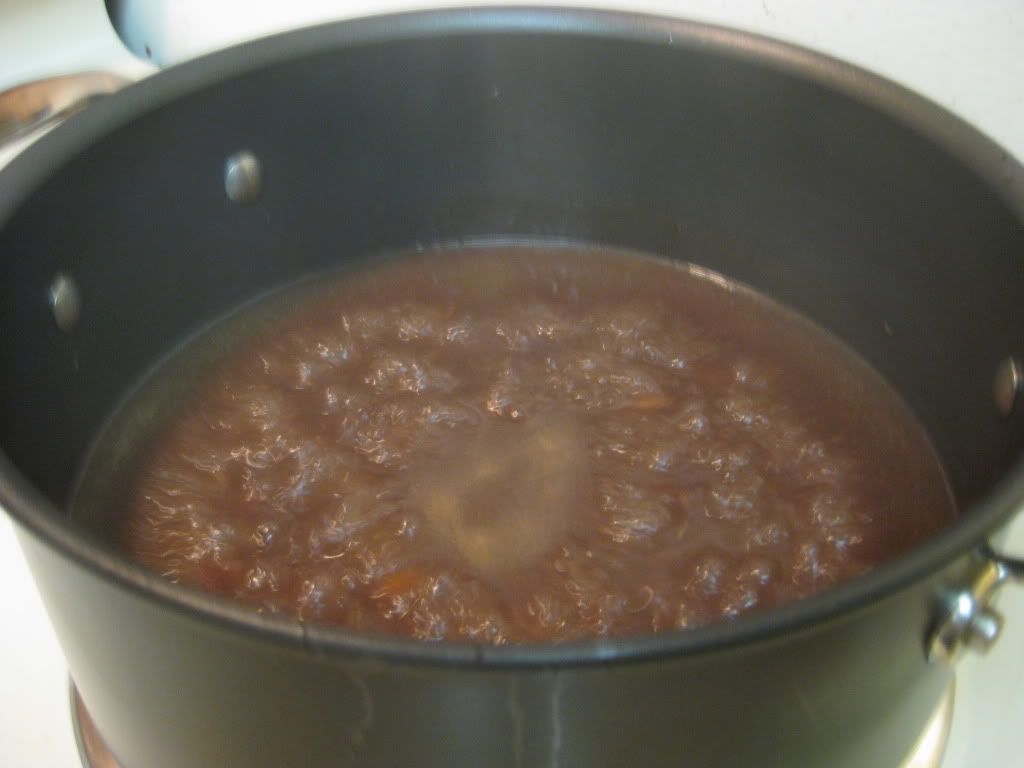 Carefully fish out the beef pieces and set them in a bowl momentarily. Remove and discard the bay leaves. Pour the sauce/vegetable mixture into a large saucepan and set the pan on medium high heat. Bring the mixture to a boil and cook for 10 to 15 minutes or until the sauce begins to thicken. Return the beef to the sauce and heat through (roughly 5 minutes) - serve this stew over egg noodles, rice, barley or any other grain of your choice and enjoy!
The Results: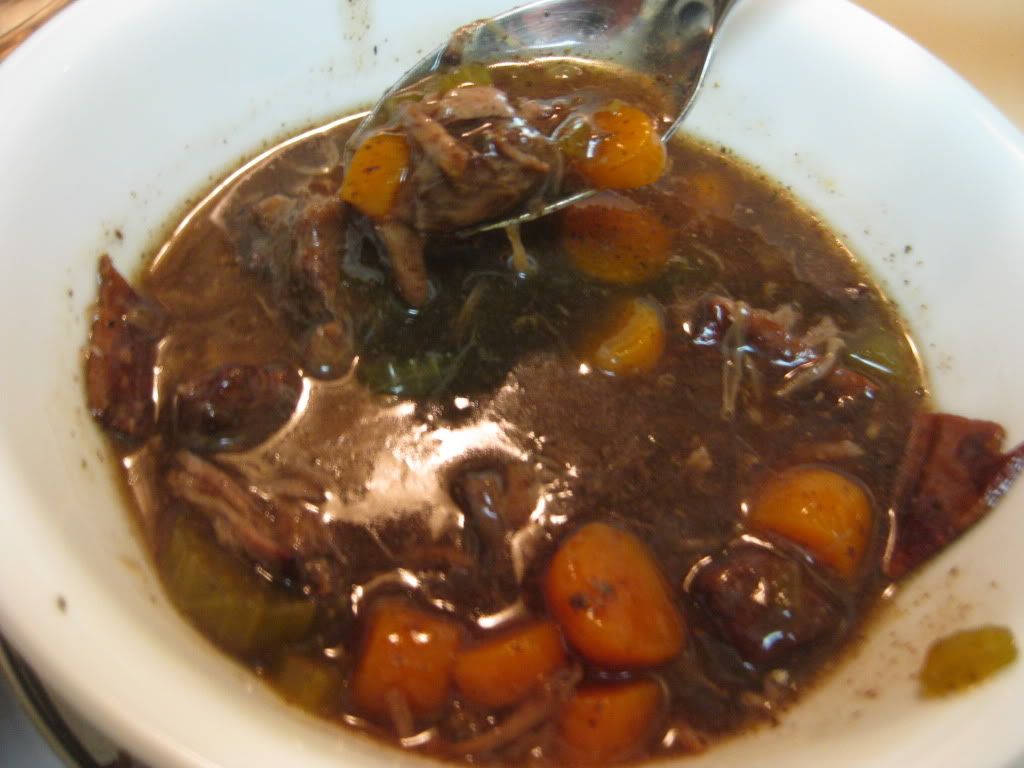 If we've said it once, we've said it a thousand times. Sometimes, simplicity is the greatest victory in cooking. This dish is based on two very simple concepts - mirepoix and beef broth + red wine. What you end up with is a brilliantly deep and complex flavor that simply blows any other beef stew you've ever had right out of the bowl. There is a reason some of these cooking traditions have lasted as long as they have!
I ended up making a last minute change to this recipe. Instead of serving it as a sort of gravy over the noodles, I opted to add corn starch and thicken up the mixture to a more stew like level. This little tweak is the nice part about cooking. You can make, adapt and tweak a recipe to your needs and whims.
That's all we have for you this week. We're back on a regular schedule on Monday with another edition of Around The Culinary World and two new recipes will follow during the week. Until then,
~Cheers